Social Security For Dummies by Jonathan Peterson
Author:Jonathan Peterson , Date: February 8, 2016 ,Views: 532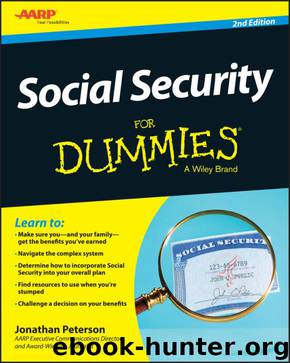 Author:Jonathan Peterson
Language: eng
Format: epub
ISBN: 9781118967638
Publisher: Wiley
Published: 2015-04-06T00:00:00+00:00



If all these apply, the breadwinner files for Social Security retirement benefits but is allowed to "suspend" receiving them. (The breadwinner has to claim benefits to allow the spouse to receive spousal benefits.) When the spouse files for spousal benefits — say it's the wife — the SSA checks to see if she has earned benefits on her own working record. If she has, the SSA pays those benefits first. If her own retirement benefits come out to less than the spousal amount, the SSA adds the difference to her monthly payment.
The couple's ages matter. This strategy works better when the breadwinner is about three to five years older than the dependent spouse. If the breadwinner is much older (70 or close), he or she qualifies for maximum Social Security benefits by the time the younger spouse can begin to claim. In such a case, the older spouse should go ahead and file for benefits, because there is no gain in waiting past age 70. If the older spouse is between full retirement age and 70, however, and if the older spouse can continue to work or forgo benefits for a few years, it may be better to claim and suspend — to take advantage of the higher benefits gained through the delayed retirement credits.
Does this strategy make sense for your household? Keep in mind the following:
The spouse receiving spousal benefits maximizes his or her own amount by waiting until full retirement age to claim them. In addition, waiting until full retirement age allows for any retirement benefit earned by the spouse to remain unclaimed, and it continues growing until the spouse reaches 70.
A breadwinner who files and then suspends his or her own retirement benefit has the option of continuing to work (if possible), potentially adding to the family's nest egg. The breadwinner then claims a maximum retirement benefit at 70.
Download


Copyright Disclaimer:
This site does not store any files on its server. We only index and link to content provided by other sites. Please contact the content providers to delete copyright contents if any and email us, we'll remove relevant links or contents immediately.