Shaping the Metropolis by Zack Taylor
Author:Zack Taylor , Date: July 25, 2020 ,Views: 77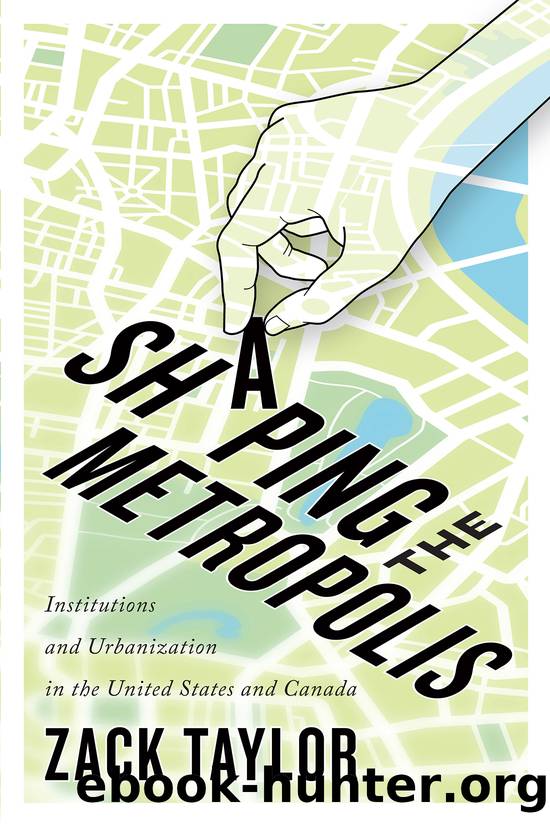 Author:Zack Taylor
Language: eng
Format: epub
Publisher: MQUP
Published: 2019-04-08T16:00:00+00:00



Figure 6.5 Regional districts in the Lower Mainland, 1967
Note: The provincial government divided the Lower Mainland into four regional districts in 1967. They assumed joint authority over the Official Regional Plan when the Regional Planning Board was dissolved in 1969.
These functions were soon joined by others: capital borrowing (1969), labour relations and public housing (1971), air pollution control (1972), and solid waste management (1974). Not all such integration occurred unanimously, and some members required provincial suasion. Concerned about the centrifugal tendency inherent in the opt-out mechanism, the GVRD board appointed a subcommittee to study its emerging political and administrative structures.103 It recommended that certain functions become mandatory for all members. The province then amended the Municipal Act in 1970 to effectively eliminate municipal opt-outs. Thereafter the public housing, water, and sewer functions became mandatory for all municipalities if a simple majority of board members, with a majority of votes under the statutory formula, agreed. (This overcame resistance to the integration of the water and sewer boards.) Moreover, any other function would become mandatory on approval of two-thirds of board members possessing two-thirds of the votes, and if two-thirds of participating municipal councils consented. Tennant and Zirnhelt see this change as instrumental: the province initially permitted opting out in order to allay the fears of local leaders; however, the minister was prepared to eliminate it when it posed problems.104 By then, the regional district system was entrenched, and the majority or super-majority voting requirements transferred political conflict and risk to the municipal level. If some municipalities mustered the votes to impose their will on a minority, then they, and not the provincial government, would bear the consequences. Such conflict remained more potential than real, however. Much like the collaborative water and sewer districts before it, the GVRD was viewed as a limited technical partnership of municipal sovereigns. Regional districts were not designed to have, nor were they permitted to evolve, strong executive or independent political leadership. As a result, the regional district boards gained experience at managing functions but were rarely compelled to make authoritative decisions that might alienate municipalities or the province.
Viewed in the normative context of technocratic optimism that fuelled postwar government expansion in North America and elsewhere, the regional districts' establishment represents the same rationalist impulse exemplified by Ontario's Local Government Review, Minnesota's creation of the Met Council, and the empowerment of counties and councils of governments across the United States. Campbell and Brown were directly influenced by prevailing consolidationist public administration ideas, in particular the desire to bring metropolitan governing structures in line with the "real" city to increase efficiency and improve democratic accountability.105 The effort was more effective in Great Vancouver than in other North American jurisdictions because inter-municipal decision-making processes were already deeply institutionalized and the single-tier local government system meant that there were no challengers, such as counties, for the same role.
Integrating Land-Use and Infrastructure Planning
At first it seemed that the province's four regional planning boards, including the LMRPB, might co-exist with the regional districts.
Download


Copyright Disclaimer:
This site does not store any files on its server. We only index and link to content provided by other sites. Please contact the content providers to delete copyright contents if any and email us, we'll remove relevant links or contents immediately.