Shakespeare's Foreign Worlds by Levin Carole;Watkins John; & John Watkins
Author:Levin, Carole;Watkins, John; & John Watkins , Date: May 9, 2020 ,Views: 246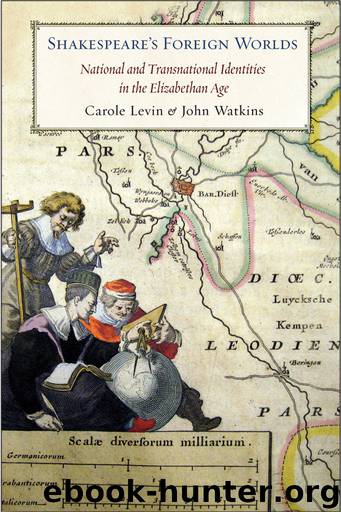 Author:Levin, Carole;Watkins, John; & John Watkins
Language: eng
Format: epub
ISBN: 978-0-8014-5771-5
Publisher: Lightning Source Inc. (Tier 3)



The Jews in Seventeenth-Century England
We know there was a Jewish community in London at the time both The Jew of Malta and The Merchant of Venice were first staged. This fragile Jewish community ended in 1609 with internal battles that led one group to denounce the others as secret Jews; the authorities resolved the situation by expelling all Portuguese merchants in London on the grounds that even if some were not Jewish, this would rid England of those who were.36 In the 1630s, because of the economic rise of Britain, converso Jewish merchants came back to London. While their Jewishness was not open, it was known, but in the 1640s and early 1650s the government and religious authorities did little to harass this community, probably, as Todd Endelman reasons, because there was too much else occupying everyone. Still, some were appalled. Royalist James Howell wrote to a friend in Amsterdam, "Touching Judaism, some corners of our city smell as rank of it as yours doth there."37
While the Jews were readmitted to England in 1656 under Oliver Cromwell, it had more to do with the millenarian belief that the end of the world was coming, a worldview that demands the restoration of the Jews, rather than any positive feeling toward the Jewish people. In the mid–seventeenth century, the commercial and religious opposition to Jews was very strong.38 And we can see how these attitudes continued as the century progressed. A 1680 pamphlet written by William Lloyd, the bishop of St. Asaph, about the conversion of Eve Cohan to Christianity clearly demonstrates this. The bishop's purpose in writing the tract was not merely to tell Eve's story:
This Recital was thought necessary, to let the Nation see what sort of People these Jews are, whom we harbour so kindly among us; who, as they yet lie under the guilt of that Innocent Blood, which their Fathers wished might rest on them and their Children: so continue not only in their obstinate Infidelity, but do still thirst after the Blood of such of their Nation as believe in Him whom their Fathers Crucified.39
Download


Copyright Disclaimer:
This site does not store any files on its server. We only index and link to content provided by other sites. Please contact the content providers to delete copyright contents if any and email us, we'll remove relevant links or contents immediately.