Sand by Unknown
Author:Unknown , Date: May 21, 2020 ,Views: 128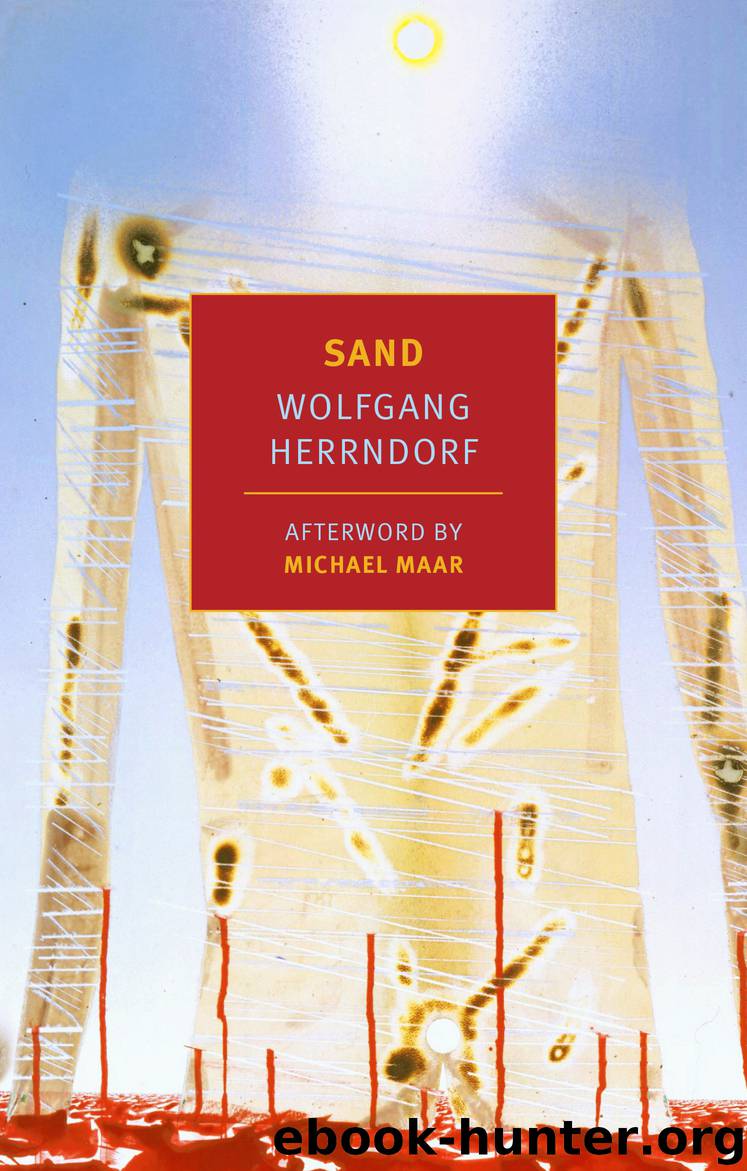 Author:Unknown
Language: eng
Format: epub
Publisher: New York Review Books
Published: 2018-04-03T12:27:20+00:00



38. Battle of the Chieftains
"Allusions, there are allusions in this book," I thought, "I want my money back."
MAREK HAHN
AS IT HAPPENED, directly following and probably provoked by Helen's visit to the commune, Michelle had decided to leave this gruesome and violent continent behind for ever. She had scraped together some money from friends to buy a return ticket to America; now she hoped Helen would throw some in as well. Unlike Helen, Michelle had never been interested in material things, and the luggage she had with her consisted almost entirely of spiritual items: an amulet with the tooth of an ouz that Ed Fowler had given her as a parting gift, the tarot cards, her favorite books and in addition, as would soon be revealed, a stack of comic books that Michelle had wrapped in a handkerchief and took with her as they all left together for the beach early that morning.
There was little going on there at that hour. A shroud of mist hid the sun. Helen and Carl sat down on a large towel and talked as Michelle lay down on her stomach a little way away and immersed herself in the colorful stories. There was something in her bearing that seemed to be trying to pre-emptively head off any criticism of the quality of her reading materials. After she'd flipped through a few pages she noticed out of the corner of her eye that Helen had got up and headed back up to the bungalow. Carl stayed behind, lost in thought, and barely acknowledged Michelle's friendly gaze. Michelle tried to focus on her reading again. The sand slowly filled with other people. Helen returned after about a quarter of an hour with a piece of paper in her hand and sat down right next to Carl.
"Listen up. There's no Cetrois," she said in a muted voice. Carl took the note out of her hand and looked at it.
"There's nothing. There's nobody with that name. The name doesn't exist. I called France, America, I called London, friends in Spain and Canada, I asked people to look in their phonebooks. Not a single match. No Cetrois. No Cetroix, no Sitrois, no Setrois . . . nothing."
Carl squinted at the list of crossed-out place names: Paris, London, Seville, Marseilles, New York, Montreal. Beneath them were a dozen different spellings of the name, likewise crossed out.
"You have friends everywhere," he mumbled, impressed.
What he found most impressive was the fact that someone could call all those places from the little holiday bungalow and how quickly Helen had managed to get all the research done. Though something about the list still bothered him, seemed mistaken. But what was it? Was it the alternative spellings of the name? Or Helen's handwriting, using all capital letters except for the letter n? He thought for a long time about what it was, but he couldn't put his finger on it. (And when he hit upon it three days later, it was already too late.)
While Helen stretched
Download


Copyright Disclaimer:
This site does not store any files on its server. We only index and link to content provided by other sites. Please contact the content providers to delete copyright contents if any and email us, we'll remove relevant links or contents immediately.