Renegade by Richard Wolffe
Author:Richard Wolffe [Wolffe, Richard] , Date: August 6, 2020 ,Views: 335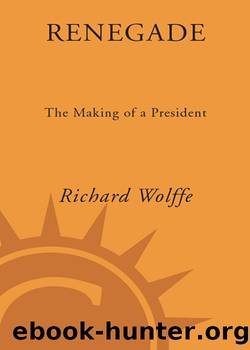 Author:Richard Wolffe [Wolffe, Richard]
Language: eng
Format: epub
ISBN: 978-0-307-46314-2
Publisher: Crown Publishing Group
Published: 2009-06-01T16:00:00+00:00



Trinity was the place where Barack married Michelle and they baptized their daughters. But its role in Obama's religious and political life was vague: a presence, but not a pivotal one. In some ways he approached religion like his mother, as an anthropologist, revering the ritual and spiritual power of faith without fully immersing himself. In describing his mother's spiritual life, he sounded like he was talking about his own doubt-filled, inclusive approach. "I think she believed in a higher power. She believed in the fundamental order and goodness of the universe," he told me. "But I think she was very suspicious of the notion that one particular organized religion offered the one truth. So, in that sense she was a skeptic about our interpretations of the meaning of life or what that higher power was." Still, he was more committed to a single religion than she was, according to his sister Maya. "She understood that he had spent some time with the churches on the South Side of Chicago, and for him being Christian meant he could really see what it was to be Christlike, in the sense of sort of being a balm to help heal the world," Maya told me. "I think he took that quite seriously, and she understood why that was important to him. She didn't feel the same need, because for her, she felt like we can still be good to one another and serve, but we don't have to choose. She was, of course, always a wanderer, and I think he was more inclined to be rooted and make the choice to set down his commitments more firmly."
More firmly but not all that frequently: Obama started married life by going to Trinity twice a month, then "less frequently" when his daughters were born. Once he was running for Senate, Obama went to church to connect with voters more than his community of faith. "There was quite a big chunk of time, especially during the Senate race where, you know, we might not have gone to Trinity for two, three months at a time," he told me. As for his interaction with Wright, he seemed more like a social friend than a spiritual adviser, as he was often portrayed in the media. "I cannot recall a time where he and I sat down and talked theology, or we had long discussions about my faith," he explained on his campaign plane one summer afternoon. "You know, if I met with him, it was after church to have chicken with the family and we would have talked stories about our family. But certainly he strengthened my faith."
With those admissions, he might have been trying to minimize his relationship with his radioactive pastor. Or he might have been admitting that he had overstated his attachment to the church and his faith. After all, he wrote a chapter on faith in his political book, The Audacity of Hope, but it was one of the shortest chapters in the volume.
Download


Copyright Disclaimer:
This site does not store any files on its server. We only index and link to content provided by other sites. Please contact the content providers to delete copyright contents if any and email us, we'll remove relevant links or contents immediately.