Radiant Voices by Carla Bergman
Author:Carla Bergman , Date: March 22, 2020 ,Views: 242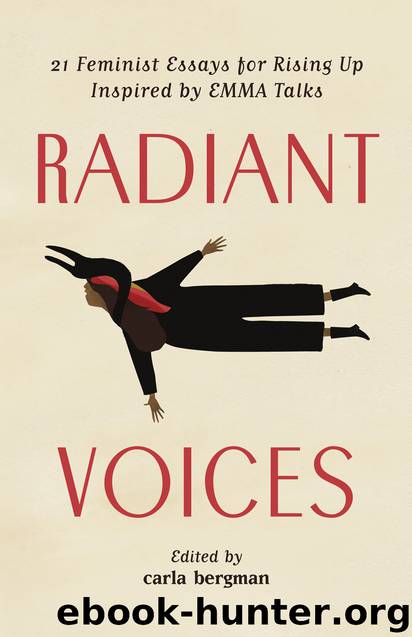 Author:Carla Bergman
Language: eng
Format: epub
Publisher: Brindle & Glass
Published: 2019-08-19T16:00:00+00:00



* * *
Excerpted from I'm Afraid of Men by Vivek Shraya. Copyright © 2018 by Vivek Shraya. Reprinted by permission of PenguinCanada, a division of Penguin Random House Canada Ltd.
What I Know About My Brother
Walidah Imarisha
Kakamia created a piece of art, a bio/prose/poem hybrid, "Frayed Subconscious." A handkerchief, stained in paint, kisses and rips of ink. He told me it was part of the evidence against him, and it was. Perhaps it was not evidence from his legal trial, but it was evidence by the state, brought against him at the time of his birth, and at the time of his indictment. The poetic vulnerable masculinity of the piece was part of the mounting case that would eventually sentence him to life in poverty: a life in racism, a life spent more behind prison walls than outside of them.
"This handkerchief was the last piece of freedom," the art piece reads. "It held the forensics to convict and heard the whispers of innocence to acquit a 16-year-old accused hit man. It traveled through county jails, courthouses and state prisons. It consoled the fears of California's most infamous criminals and masterminds, and has soaked up the blood of prison riot victims."
Poetry can exquisitely change lives. It can sustain life in the worst of circumstances. And all poetry is a lie. Facts are not poetic enough to reveal the rhythm of a human heart. We thank poetry for its inaccuracies—imperfect cracks on the face of beauty through which the light is able to shine through—word to poet Leonard Cohen.
So when Kakamia told me he met Mac in New York—whom he called his godfather—through his uncle who had connections to the Westies and numbers rackets, I understood the need to create ties and community. When Kakamia said he would leave his Crown Heights, Brooklyn neighborhood to run errands for his uncle, I understood the desire in him to be tied to something more powerful, more terrifying, than his own thin brown body.
I asked Mac about my brother the first time I met him.
"Great kid," he replied, beaming. "He's got a good heart, Kakamia does."
Kakamia was man of a thousand names as well. Names are a precious and powerful part of your identity. Knowing a name means you have a piece of that person. He had his birth name, signifying the child who continued getting up, mouth tasting like dirt and metal, when life knocked him to the ground. A prison ID number, an absence of self so a system can get on with its business of making commodities out of human beings without guilt. He was known as "New York" to people a continent away, where a Puerto Rican was a novelty item. "New York" shared in the cool of power, tinged with danger, that the city embodied. He was Kakamia Jahad Imarisha to those who wanted to see the man he so desperately tried to be, the man that, most of the time, he succeeded in being.
"Have you seen his art?" Mac continued, "Phenomenal, just amazing.
Download


Copyright Disclaimer:
This site does not store any files on its server. We only index and link to content provided by other sites. Please contact the content providers to delete copyright contents if any and email us, we'll remove relevant links or contents immediately.