Poverty in America by Iceland John
Author:Iceland, John , Date: March 22, 2017 ,Views: 603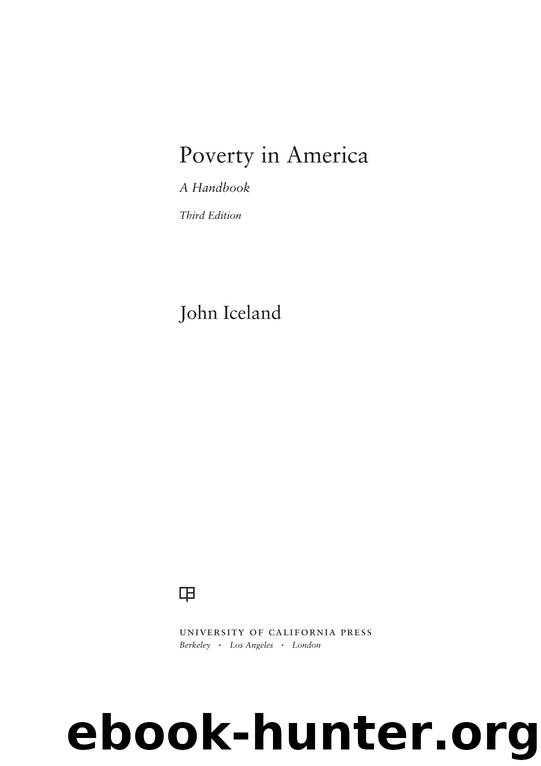 Author:Iceland, John
Language: eng
Format: epub
ISBN: 9780520276369
Publisher: University of California Press



A fair reckoning of these two arguments—one economic and one cultural—is that both have elements of truth to them. Below I draw extensively from an excellent review of the social scientific literature on the reasons behind the rise in nonmarital births by longtime family researcher Pamela Smock and her coauthor Fiona Rose Greenland.134 They note that unmarried couples with children articulate at least three perceived obstacles to marriage: concerns about financial stability, relationship quality, and fear of divorce, with financial concerns often the paramount issue.135 Women (and men) value marriage and aspire to it, but, because of fears about divorce, they believe that marriage should occur after financial stability is achieved. Low-income women, because of their low earnings expectations, have less to lose by having children early and outside marriage; they also place a very high value on children as adding meaning to their lives.136 In addition, good mothering is seen by this group as something that does not require tremendous resources, as it basically involves being there for the children—an approach to parenting that differs from that of the middle class.137
Sociologist Andrew Cherlin has noted that the symbolic importance of marriage has increased over time, and it now represents achievement and signifies prestige. Americans also expect more from marriage in the form of emotional fulfillment and as a means of self-actualization than they did previously, when it was generally seen as an arrangement for practical support. In essence, whereas economic struggle during the early years of marriage was a normative assumption in an earlier era, nowadays there is a widespread perception that marriage should occur after financial goals have already been reached, perhaps to help ensure its stability in a era of high divorce rates. As a result, low-income women generally view marriage as something to which to aspire, whereas parenthood is attainable regardless of financial stability or marital status.138 The declining economic fortunes of low-skill men, and indeed the growth of income inequality, has made marriage seem less attainable.
Smock and Greenland also note that cohabitation offers a marriagelike relationship with many of the same advantages of marriage, such as companionship, shared expenses, sexual access, childbearing, and child rearing. With cohabitation available as an increasingly normative option, the incentive to get married has declined. This helps explain rapid increases in cohabitation in recent years.
A news story on rising nonmarital births in the United States offered the following anecdote that would seem to support this view, and which highlights the importance of both economic conditions and the role of values and norm, and hence culture:
Over the past generation, Lorain lost most of two steel mills, a shipyard and a Ford factory, diminishing the supply of jobs that let blue-collar workers raise middle-class families. More women went to work, making marriage less of a financial necessity for them. Living together became routine, and single motherhood lost the stigma that once sent couples rushing to the altar. Women here often describe marriage as a sign of having arrived rather than a way to get there.
Download


Copyright Disclaimer:
This site does not store any files on its server. We only index and link to content provided by other sites. Please contact the content providers to delete copyright contents if any and email us, we'll remove relevant links or contents immediately.