One Mighty and Irresistible Tide: The Epic Struggle Over American Immigration, 1924-1965 by Jia Lynn Yang
Author:Jia Lynn Yang [Yang, Jia Lynn] , Date: June 29, 2020 ,Views: 138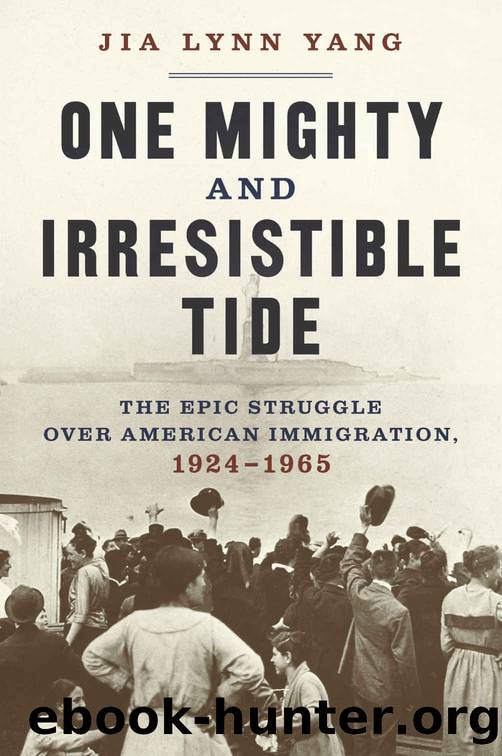 Author:Jia Lynn Yang [Yang, Jia Lynn]
Language: eng
Format: azw3
Publisher: W. W. Norton & Company
Published: 2020-05-18T16:00:00+00:00



JUDD AND TRUMAN knew each other well. In 1943, when Judd was still a freshman congressman and Truman vice president, the two men had gone on the road together for two weeks to raise support for the creation of a new international organization that would help to preserve peace. Despite belonging to different political parties, Truman and Judd were intent on defeating pro-isolationist forces in the country. They went to nineteen different cities in the Midwest and stopped off in Judd's hometown in Nebraska, where they had a dinner of fried chicken and whipped potatoes with Judd's parents. Truman's direct and honest manner impressed Judd's father, who declared, "Well, I'm a Republican, and I don't know about his politics, but I'd trust that fellow with my pocketbook."
On the question of whether to veto the McCarran bill, though, Truman was not in agreement with Judd—and he faced dissent even within his own administration.
The cabinet secretary whom Truman likely respected most, Secretary of State Dean Acheson, thought the president should sign the bill. The State Department's argument, essentially, was that while the bill had some flaws, its elimination of racial barriers to naturalization was an important step forward. The United States was just ending its occupation of Japan, and relations between the two countries were still delicate. Lifting the immigration and naturalization ban on Japanese would only engender goodwill and show that the United States was eager to bring Japan once more into the international fold. "This is such a tremendous step forward, from the foreign relations point of view, that it should not be jeopardized by any attempt to remove all discrimination in immigration privileges unless there is a practical certainty of favorable action during this session of Congress." Furthermore, the State Department argued, "The achievement of our foreign policy objectives in Asia would be jeopardized if the United States does not soon remove existing barriers. Failure to enact this legislation would give the Kremlin more grounds for propaganda in the Far East than anything it can find in the bill as it stands." The CIA and Department of Justice also saw no reason for Truman to veto the bill.
On the other hand, Secretary of Labor Michael J. Galvin encouraged Truman to veto. Some of Truman's supporters viewed the law as an affront to civil rights. As A. Philip Randolph, international president of the Brotherhood of Sleeping Car Porters, an influential union and civil rights group, wrote to the president on May 29, "This McCarran bill, by striking a sinister blow at civil rights and the doctrine of racial democracy and racial equality, thereby constitutes a grave threat to the vitality and strength of our American democratic system and aids and abets the world-wide drive for universal power of Stalinist Russia."
Truman likely needed little convincing that the bill should not go past his desk. As Harry Rosenfield, who had overseen the admission of displaced persons after the passage of the refugee law in 1948, warned him in a June 12 letter,
Download


Copyright Disclaimer:
This site does not store any files on its server. We only index and link to content provided by other sites. Please contact the content providers to delete copyright contents if any and email us, we'll remove relevant links or contents immediately.