Morgana Trilogy Complete Series by Alessa Ellefson
Author:Alessa Ellefson , Date: August 6, 2020 ,Views: 410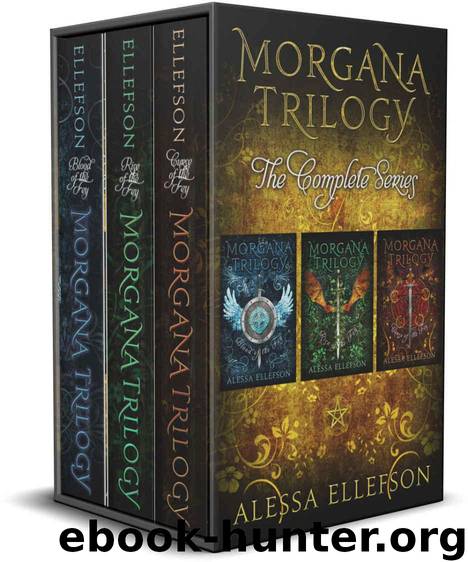 Author:Alessa Ellefson
Language: eng
Format: mobi
ISBN: 9780989381444
Published: 2020-03-21T04:00:00+00:00



Chapter 20
To top off this epically awful day, I find myself unable to sleep. So when the first rays of light filter through my window, I fling my covers off and force myself to get dressed for my morning run—an exercise I don't relish, but one I find helpful in both reducing my stress levels, and curbing that freaky energy that always wants to spill out of me and lay waste to everything.
As I leave the school building on my way to the southern fields, a familiar shadow glides down the path after me.
"Stay away, you slimy thing," I mutter.
The snake flickers its forked tongue at me before slithering out of sight under a shrub. I stifle a grunt of exasperation, hating the fact that no matter what I do or where I go, unwelcome eyes are always on me.
"Not now, Tristan, I'm expecting someone."
I freeze in my tracks at Lady Ysolt's strained voice, and look about for its source.
"Your husband, I suppose?" Father Tristan asks, sounding dour.
"Don't be silly," she replies, and I now realize that the voices are coming from the teachers' lounge, a few windows down.
"Who are you waiting for if it isn't Sir Boorish then?" Father Tristan asks petulantly.
"The Board."
"How come I wasn't notified of their visit?" Father Tristan asks angrily. But as his question's met with a dead silence, he adds, "Who's deigned to come over this time?"
"Sir Pelles."
"The High Judge himself?" Father Tristan says, sounding excited now. "Perfect!"
I slowly back away from the open window, willing the gravel not to crunch under my feet. The last thing I need right now is to get caught eavesdropping by those two while they're in the middle of their squabble.
"Don't even start with that story again," I hear Lady Ysolt say with a tired sigh that tells me they've had this argument before.
"There's something fishy about Myrdwinn, Ysolt," Father Tristan insists, and I nearly stumble at the school director's mention. "Don't you see? He and Vivian are conniving together to bring this whole place down. I know for a fact that they're in league with the Order of Errant Companions, who have been dying to get their hands on our money and facilities for ages. And with Carman on the rampage, they've found the perfect opportunity to do so! That's why I've got to get Pelles to interrogate Myrdwinn for us."
"The Errant Companions don't care a fib about our school," Lady Ysolt retorts, exasperated. "They don't believe in ever staying in one place. As for Myrdwinn, the old man spends most of his time drooling over himself and eating grass with Puck. He lost his mind ages ago, and it seems to me you're doing a fine job going down the same path."
"I'm telling you it's all a ploy!" Father Tristan explodes. "Mark my words, I will find out what he's up to, whether you help me or not."
"The Board's here," Lady Ysolt says resignedly. "You better get ready for your homily, Tristan, instead of spouting this nonsense, or you might end up locked away too.
Download


Copyright Disclaimer:
This site does not store any files on its server. We only index and link to content provided by other sites. Please contact the content providers to delete copyright contents if any and email us, we'll remove relevant links or contents immediately.