Modern China by Cary Krosinsky
Author:Cary Krosinsky , Date: June 29, 2020 ,Views: 186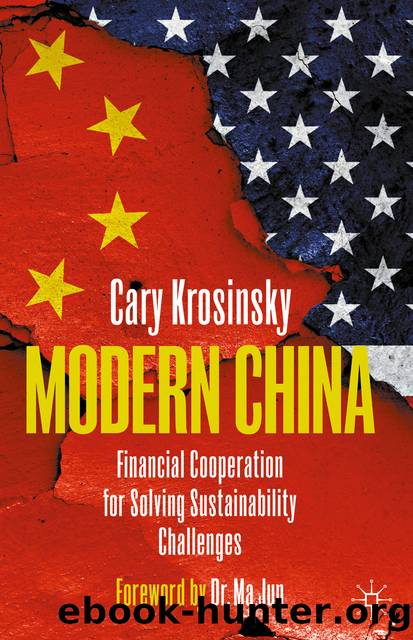 Author:Cary Krosinsky
Language: eng
Format: epub
ISBN: 9783030392048
Publisher: Springer International Publishing



G20 Guidelines: China's Journey to Green Finance Leadership
The year 2016 marked an instrumental year for China, in which the nation was able to propel green finance policy to the forefront of their larger economic policy. As the host of the 2016 G20 summit, China held the unique opportunity to embark on conversations exploring what it believed to be an emerging and critical issue, relevant both to its domestic economy and to the economy of the larger global community.
In January 2016, China established the Green Finance Study Group (GFSG), co-chaired at the time by the PBoC and the Bank of England, with the UN Environment Program (UNEP) acting as the secretariat. Given its establishment under the Chinese presidency, green finance was thus ensured for the first time, by its incorporation into the G20 agenda.
In August of the same year, the PBoC, along with six other government agencies and commissions, released its Guidelines for Establishing the Green Financial System. These aimed to establish a sound green financial system in China in order to "mobilize and incentivize more social (private) capital to invest in green industries, and to more effectively control investments in polluting projects" (PBoC 2016). Such guidelines were the first of their kind to be issued by any nation's central bank, and they represented a green financing mechanism suited to assist China's massive economy in an unprecedented transition toward a long-term sustainable structure.
More specifically, these guidelines focused on concrete policies which aimed to bolster the level of private capital funneled into green sectors and restrict investment in sectors which induced pollution and other negative environmental externalities. They chiefly called for action and policy change in seven distinct areas: green bonds, green lending, green development funds, green insurance, markets for pollution control rights, local government initiatives and international cooperation (PBoC 2016). Many of these areas are highlighted and explored further in this chapter as the most influential aspects of China's journey toward achieving its "ecological civilization."
Just five days after the PBoC's release of the guidelines, the G20 summit began in Hangzhou, marking the first time in G20's history that all heads of state settled on pursuing a common goal of supporting green finance. With the close of the summit, the GFSG released a Green Finance Synthesis Report which emphasized the integral role of green finance in sustainable development, identified the various challenges which remained when attempting to increase green financial flows and outlined seven key policy recommendations for nations which set out to construct environments for the optimal adoption of green finance (G20 Green Finance Study Group 2016). These included offering strategic policy signals and frameworks, providing clearer environmental and economic policy signals for investors regarding the strategic framework for green investment, promoting voluntary principles for green finance, expanding learning networks for capacity building, supporting the development of local green bond markets, promoting international collaboration to facilitate cross-border investment in green bonds, encouraging and facilitating knowledge sharing on environmental and financial risk and improving the measurement of green finance activities and their impacts.
Download


Copyright Disclaimer:
This site does not store any files on its server. We only index and link to content provided by other sites. Please contact the content providers to delete copyright contents if any and email us, we'll remove relevant links or contents immediately.