March Madness by Hildred Billings
Author:Hildred Billings [Billings, Hildred] , Date: January 14, 2021 ,Views: 25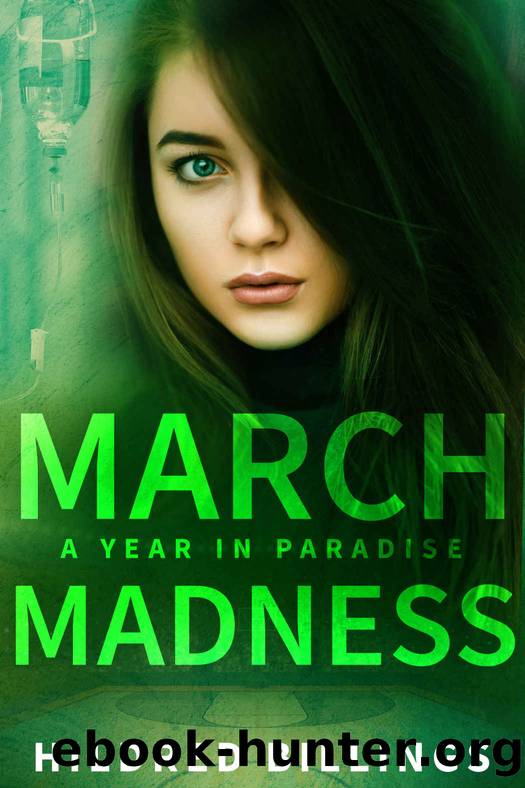 Author:Hildred Billings [Billings, Hildred]
Language: eng
Format: epub
Tags: romance, series
Publisher: Barachou Press
Published: 2019-03-09T05:00:00+00:00



Chapter 10
LORRI
St. Patrick's Day wasn't a big party thing in Paradise Valley, but there was still plenty to do when it fell on a Sunday. Joan was off to have a green-themed craft-in at the shop, complete with whatever scraps of green fabrics, yarns, and threads she could spare from her personal collection that usually gathered dust in the second bedroom. Lorri used to ask her where it was gonna go once the baby arrived and they needed to use that room for baby stuff. Doesn't seem to matter now. Still, it was nice to see one more tote emptied. The green tote, because Joan was meticulous enough to separate her materials by type and color.
As for Lorri? She was spending her evening off at Paradise Lost with the girls. It being a holiday – and a Sunday, no less – meant the place was packed with women wearing "Kiss Me! I'm Irish!" shirts and sporting green beer. Lorri drank in the environment with a smile on her face. This would be the most fun she had in weeks!
"Hey-o!" She waved at the group that had saved her a seat at the bar. Bags fell off the stool as both Jalen and Krys held up their green beers and welcomed Lorri to the party. The only reason she wasn't there sooner was because she got held up on the phone with her mom. For some reason, Mrs. Abrams thought it pertinent to call her daughter on St. Paddy's day for a quick chat. A quick chat that turned into two hours while Lorri impatiently tapped her foot and stared at the clock.
"About time you showed up." Jalen clicked her tongue. "We were sitting here playing Fuck-Marry-Kill with everyone's favorite TV show."
Lorri glanced up at the TV screen. It was that blasted drama again. The one with the actress who couldn't actually act to save her stupid life. "Oh, Jonas!" she bemoaned in a doctor's office. "I don't know why they're saying the baby isn't yours! I swear you were the only one. Unless… at that party where I drank so much…"
Everyone watching this spectacle groaned. "Man, it really is a regular ol' soap opera," Krys muttered. "Once you see through its stupid veneer, you get it."
"Been telling you for a while now," Lorri said with a shake of her head. "That actress may be pretty, but between her terrible skills and the terrible writing, it's like pulling my teeth out of my head every time this drivel's on."
"Still waiting for the game to start," the bartender said. "Unfortunately for you, Lor, half of Paradise Valley wants to sleep with that actress, so I've gotta have it up before I've got a riot on my hands. Now, what can I get you this week?"
A lobotomy? Nah. Alcohol would get the job done better. "Obviously, I want some green beer. Gotta get in the spirit, right?"
"You wearing green underwear or something?" Jalen asked. "Because I don't see any other green on you. I bet you love getting pinched, though.
Download


Copyright Disclaimer:
This site does not store any files on its server. We only index and link to content provided by other sites. Please contact the content providers to delete copyright contents if any and email us, we'll remove relevant links or contents immediately.