Learning Legacies: Archive to Action through Women's Cross-Cultural Teaching by Robbins Sarah Ruffing
Author:Robbins, Sarah Ruffing , Date: May 4, 2020 ,Views: 230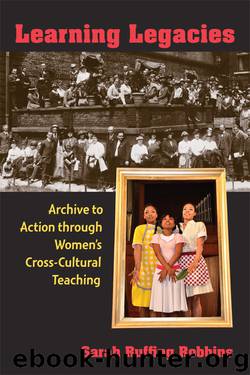 Author:Robbins, Sarah Ruffing
Language: eng
Format: epub
Publisher: University of Michigan Press
Published: 2018-05-15T00:00:00+00:00



White Teachers in Assimilationist Zones
When I reflect on the shameful history of Native children being abused by white teachers, I feel overwhelmed by a collective sense of guilt. How can I, as a white teacher myself, ever hope to atone for such horrific practices perpetrated in so many white-run classrooms aimed at "killing" Indians? I can't. But I hope I can draw on studies of that painful history, and on alliances with accomplished Native educators today, to improve my own cross-cultural work. Wondering if white teachers can ever be worthy of trust from Native students and Native educators of today, I take a little comfort from the fact that a few white educators from the assimilationist era did try to cross cultural boundaries and even had a sustained, positive impact on their students. Ella Deloria acknowledged Page 192 →the influence of two such mentors by dedicating Waterlily to her anthropologist colleague Ruth Fulton Benedict and, earlier, Speaking of Indians to Mary Sharp Francis, a "'beloved teacher and a great missionary'" (quoted by Gardner, vi–vii). So perhaps another relevant site of study for an educator like me is, indeed, the past teaching of whites situated in instructional sites for Indians, where an archive of some partial successes at intercultural exchange can be excavated.
Elsewhere, I've examined the work of white missionary teachers who worked in other cross-cultural settings, including China and Portuguese West Africa.15 By writing about such figures and trying to historicize the goals of their rhetoric, which was generally intended for white readers and was certainly constrained by their own racial biases and very restricted worldviews, I might have appeared to a hurried reader to be affirming their perspectives. Instead, I have been trying to recover and understand such standpoints, in all their complexity. For example, the aspects of their work that represent resistance (however limited) to then-dominant narratives driving cross-cultural education give us hope for continued progress in intercultural relationships. At the same time, if we ignore the ways in which their pedagogy was bound up with colonizing impulses, we miss equally important responsibilities to critique our own teaching.
In that context, within this chapter highlighting Native teachers as role models for us today, I want to pause here to mark the position of the rare white women educators who resisted (aspects of) the assimilationist program. Perhaps their writings helped pave the way for shifts in other whites' attitudes toward Native people and Indian education. At the least, it appears their teaching had a positive influence on individual students, such as Ella Deloria, who would themselves become teachers. (Sherman Alexie, whose award-winning young adult novel The Absolutely True Diary of a Part-time Indian includes affirming portrayals of a few white teachers encountered by his protagonist, seems to envision such a possibility.) Furthermore, educators who find themselves in comparable situations today—perhaps, for example, as white middle-class teachers in urban K-12 schools with "majority minority" student populations,16 or in post-secondary institutions serving many first-generation college students—may benefit from examining this context so as to reflect critically on their own classroom practices.
Download


Copyright Disclaimer:
This site does not store any files on its server. We only index and link to content provided by other sites. Please contact the content providers to delete copyright contents if any and email us, we'll remove relevant links or contents immediately.