Hockey Fight in Canada by David Shoalts
Author:David Shoalts , Date: June 30, 2020 ,Views: 13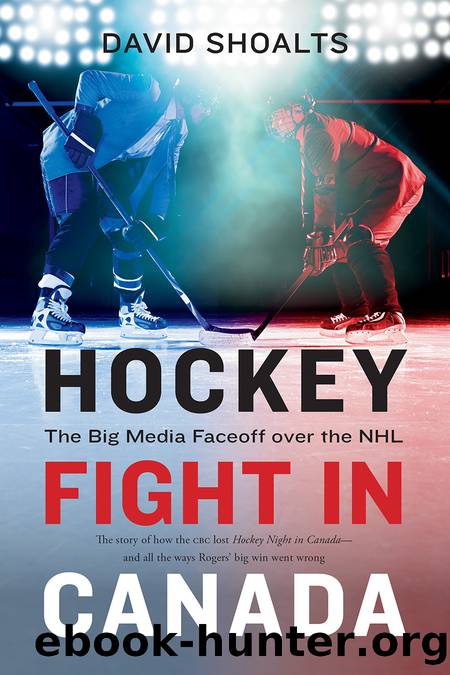 Author:David Shoalts
Language: eng
Format: epub
Tags: Television, Broadcasting, Sports, Canada, Hockey, National Hockey League, NHL, Hockey Night in Canada, Business
ISBN: 9781771622059
Publisher: Douglas and McIntyre (2013) Ltd.
Published: 2018-09-29T00:00:00+00:00



7
Québecor Gets in the Game
If there is one detail those involved in the great rights negotiations of 2013 agree on, it is that Rogers never could have snatched the NHL broadcast rights out from under Bell if Québecor Inc. had not signed on to sub-license the French-language rights. At first glance, this looks almost like a minor deal given the overall $5.2-billion price tag on the Rogers-NHL contract but there are several strands to this important story, each one of them compelling in its own right.
When Pierre Dion agreed to a sub-licence for all 12 years of the Rogers deal that started at $125 million per year, it gave Keith Pelley enough of a financial cushion to persuade his bosses to commit $5.2 billion. Dion, who by all accounts is a self-effacing businessman, was said to have championed the deal within Québecor as enthusiastically as Pelley did with Edward Rogers and Nadir Mohamed and the Rogers board of directors.
"He may be very modest about his impact but from my point of view, Rogers never gets there without Pierre," John Collins said. "His willingness to spend on the French national rights and the gap between what he was willing to spend and what Bell and RDS was willing to spend, is what really made the deal for Rogers. It gave them the ability, because they didn't have the infrastructure to generate as much revenue as Bell was going to do, that gave them the ability to do it."
The first strand in the French rights story is Québecor's financial commitment on behalf of its new and aggressive TVA Sports network. By subtracting the company's payment from what Rogers agreed to pay the NHL, Pelley could say—and often did if any of his rivals from Bell were around—that Rogers was actually paying less than what Bell offered the NHL. A lot less, in fact, which is something few people outside the broadcasting business realize. Once you do the math, it turned a $5.2-billion commitment to the NHL into one closer to $3.7 billion, which explains why Edward Rogers and the board bought in. If Bell had won the rights deal, it would not have been able to find the same cushion because the French rights would have gone to RDS, its own network.
"I would not have been able to get my own board's approval if we had not had [TVA Sports]," Pelley said.
When Pelley told Gary Bettman in September 2013 he was interested in bidding on the gatekeeper model of the rights, he knew one of the most important things he had to do was find someone to sub-license the French rights. RDS, which held the French national and Montreal Canadiens' regional rights ever since there were such things, was obviously out of the question. Pelley and Moore briefly toyed with the idea of starting their own French sports network but that was put aside after the first conversation with Dion.
TVA Sports was launched in September 2011 by Québecor. It started out with
Download


Copyright Disclaimer:
This site does not store any files on its server. We only index and link to content provided by other sites. Please contact the content providers to delete copyright contents if any and email us, we'll remove relevant links or contents immediately.