From Russia with Blood by Heidi Blake
Author:Heidi Blake , Date: November 20, 2019 ,Views: 276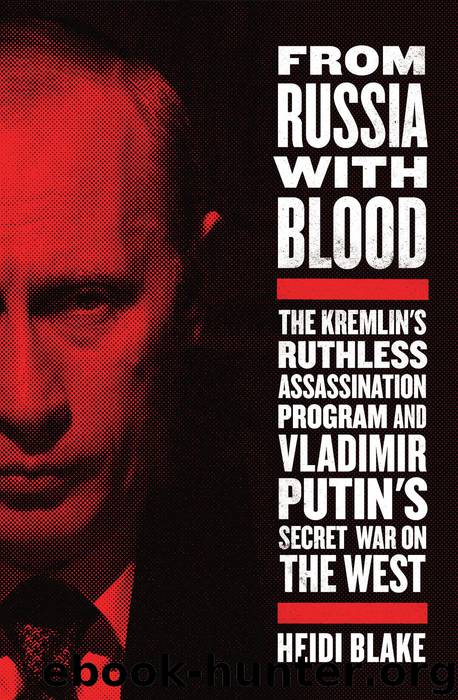 Author:Heidi Blake
Language: eng
Format: epub
Publisher: Little, Brown and Company
Published: 2019-09-23T16:00:00+00:00



Something was wrong with Anna Politkovskaya. When Litvinenko met his friend at a Caffè Nero on one of her visits to London, he saw that her face was drawn with worry under her trademark steel-rimmed spectacles.
"Anna, what is it?" he asked, shocked to see the fearless journalist looking so shaken.
"Alexander," she said. "I'm very afraid."
Politkovskaya told him she had been receiving threats that she believed came directly from Putin. She had been threatened often enough before, but this time she felt a terrible foreboding. Every morning as she said goodbye to her son and daughter before leaving her flat, it was as if she were seeing them for the last time. And she couldn't say why, but she felt especially vulnerable in the elevator of her apartment building.
"Anna," he implored her. "Don't go back to Russia." But Politkovskaya's children were there, as well as her elderly parents. Besides, she was on the verge of publishing a new exposé about the systematic torture of prisoners by pro-Kremlin troops in Chechnya. She said goodbye to Litvinenko and flew home.
On the afternoon of October 7, Politkovskaya pulled up outside her apartment building in her Lada and began unloading her grocery bags. She was in a hurry—her story was scheduled to go out the next day—so she didn't see the thin man in the baseball cap watching as she hastened inside. Politkovskaya left the first load of bags upstairs and came back down in the elevator to collect the rest. When the doors slid open, the thin man was waiting. He fired two shots into her chest and a third into her shoulder. By the time the fourth bullet entered her skull, she was dead. The gunman dropped his pistol and its silencer next to her slumped body and disappeared.
The assassination of Anna Politkovskaya provoked an international outpouring of grief and anger. The US-based Committee to Protect Journalists declared her the thirteenth reporter to be assassinated since Putin came to power. Hundreds of protesters gathered in Moscow to decry the killing, and candlelight vigils were held in cities around the world. Even Tony Blair and George W. Bush were moved to condemn the murder, calling for a "thorough investigation into this terrible crime" in a joint statement. But Putin was laconic. He said the Russian authorities would get to the bottom of the shooting, but he dismissed Politkovskaya as a "very minor" figure who had "no influence on political life."
Litvinenko was devastated. He was outraged that his brave friend had been cut down and terrified that he would be next. But his fears were allayed somewhat the following week, when he received the long-awaited news that he and his family had been granted full British citizenship. Attew was working in his office, at the top of a smart town house in Mayfair, when Litvinenko burst in waving his passport.
"I'm British!" he yelled, literally jumping for joy. Now Anatoly would grow up an English gentleman, he joked, and maybe one day his son might even work for MI6.
Download


Copyright Disclaimer:
This site does not store any files on its server. We only index and link to content provided by other sites. Please contact the content providers to delete copyright contents if any and email us, we'll remove relevant links or contents immediately.