Firefighting by Ben S. Bernanke & Timothy F. Geithner & Henry M. Paulson
Author:Ben S. Bernanke & Timothy F. Geithner & Henry M. Paulson [Bernanke, Ben S.] , Date: August 5, 2020 ,Views: 483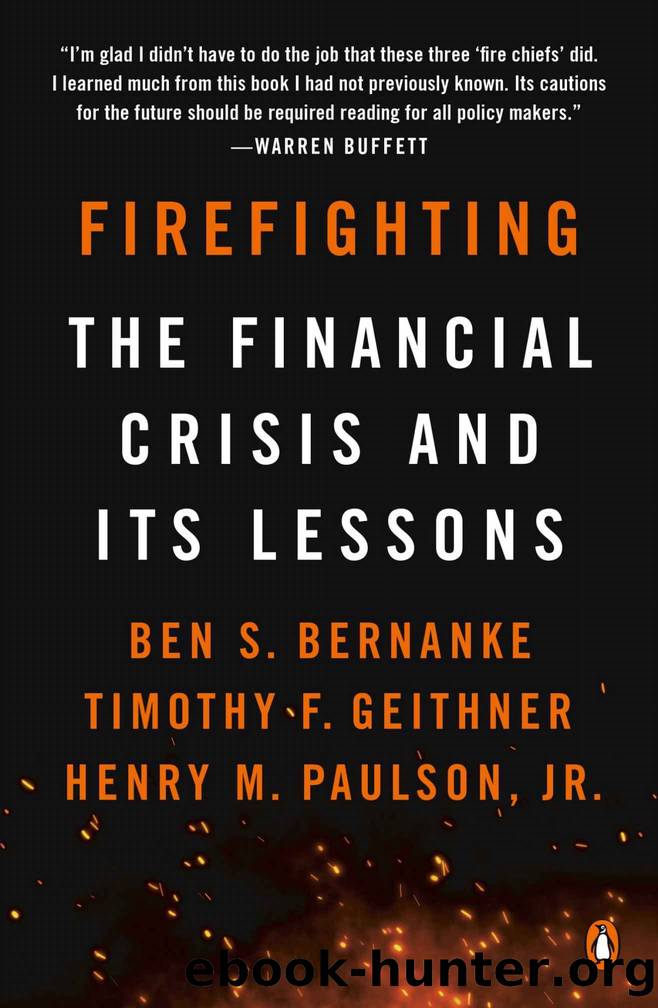 Author:Ben S. Bernanke & Timothy F. Geithner & Henry M. Paulson [Bernanke, Ben S.]
Language: eng
Format: azw3
Publisher: Penguin Publishing Group
Published: 2019-04-15T16:00:00+00:00



* * *
—
We now had a more effective strategy in place to respond to the financial earthquake, but the economic tsunami was just reaching the shore. In the fourth quarter of 2008, the U.S. economy contracted at an 8.2 percent annual rate and shed nearly 2 million jobs, as the shocks on Wall Street began rippling through Main Street. Main Street's woes were in turn worsening the problems on Wall Street, as failing businesses defaulted on their loans and laid-off workers fell behind on their payments on credit cards, student loans, car loans, and mortgages. The troubled assets on bank balance sheets grew more troubled than ever, as increased mortgage defaults and delinquencies heightened concerns about mortgage-backed securities. The worst recession since the Depression was intensifying, further complicating our efforts to stabilize the financial system.
Critically, the TARP math was already turning ugly, prompting markets to wonder if our large new pot of money would be large enough to fill the system's remaining capital holes. We had only $350 billion in the initial tranche of TARP funding; we would need congressional approval to access the remaining $350 billion. So our injections of $250 billion into the banking sector left us just $100 billion in the first tranche of TARP and $450 billion overall. But a Fed analysis found the banking sector alone would need a further $290 billion in capital in a "stress scenario," and as much as $684 billion in an "extreme stress scenario." That didn't include the costs of helping home owners or rescuing the auto industry.
We also had to deal with AIG, which had posted shockingly large losses and was bleeding yet again. This time, we decided we needed to restructure its rescue package to try to cauterize its wounds in a more permanent way. Fortunately, we now had TARP, and Hank agreed to inject $40 billion in capital into the company to satisfy the credit rating agencies and the markets that it was financially viable. The Fed also provided financing for two new vehicles to take the risk of AIG's troubled securities off its balance sheets, roping off the assets that were shattering confidence in the firm. The Fed did test whether it could persuade AIG's major creditors to reduce the value of their claims on the company voluntarily, but they would not accept even extremely modest haircuts. In theory, we could have tried to compel them by threatening to force AIG into default, but our priority was to prevent a default and the downgrades and runs it would have triggered. Threatening default is not a great way to reduce fears of default, and we had no intention of fueling the panic by sending a message that no contract was safe.
It was a perilous time, made more dangerous by the fact that it was happening during the quadrennial holding period after the election of a new president. We had all been impressed by the responsible way Barack Obama handled the crisis during the campaign, and we knew he understood the magnitude of the challenge.
Download


Copyright Disclaimer:
This site does not store any files on its server. We only index and link to content provided by other sites. Please contact the content providers to delete copyright contents if any and email us, we'll remove relevant links or contents immediately.