Envisioning The Tale of Genji by Shirane Haruo;
Author:Shirane, Haruo; , Date: April 8, 2020 ,Views: 305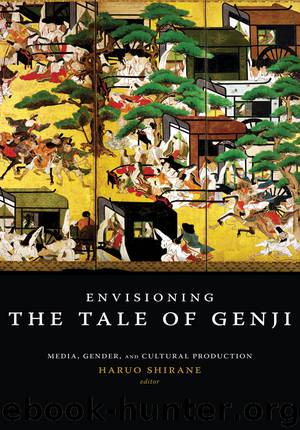 Author:Shirane, Haruo;
Language: eng
Format: epub
Tags: LIT008000, Literary Criticism/Asian/General, LIT000000, Literary Criticism/General
Publisher: Lightning Source Inc. (Tier 3)
Published: 2008-06-14T16:00:00+00:00



Allusive Genji Ukiyo-e: Suzuki Harunobu and Isoda Koryūsai
The Genji pictures of Suzuki Harunobu (d. 1770), another prominent artist of the mid-Edo period,40 in the ukiyo-e style fall into roughly four types. The first type, in which traditional Genji iconography and pictorial composition are transformed into a contemporary setting with multiple clues about the connection between the two, is best represented by the Mitate Yūgao zu (Visual Transposition: Evening Faces, 1766) (figure 37; plate 1). A few years earlier, Harunobu had created a mizu-e (water picture)41 called Genji monogatari Yūgao (Tale of Genji Evening Faces), whose composition resembles that of the illustration for the "Yūgao" chapter in Osana Genji (see figure 31). For Mitate Yūgao zu, which is a nishiki-e (multicolored print), Harunobu borrowed from traditional Genji pictures such elements as a man visiting a woman, moonflowers entwined in vines, a fan, and an insect cage shaped like an ox carriage; enlarged the two central figures; and depicted the motifs more elaborately, giving them a more realistic appearance. Furthermore, on the man's sleeve is the Genji incense sign representing the "Yūgao" chapter. In The Tale of Genji, a young girl comes out of a house with a fan on which to place a yūgao flower; but in Harunobu's picture, the fan holds a love letter with the greeting kata-sama mairu (my dear one arrives), commonly used by courtesans in their correspondence with lovers. It is not clear whether a young girl or a female patron of the house is giving the letter to the man on the right, but the encounter between a naïve young woman and a man evokes memories of "Yūgao" and the start of romantic young love.
Download


Copyright Disclaimer:
This site does not store any files on its server. We only index and link to content provided by other sites. Please contact the content providers to delete copyright contents if any and email us, we'll remove relevant links or contents immediately.