Do This for Love by David Eubank
Author:David Eubank , Date: August 4, 2020 ,Views: 339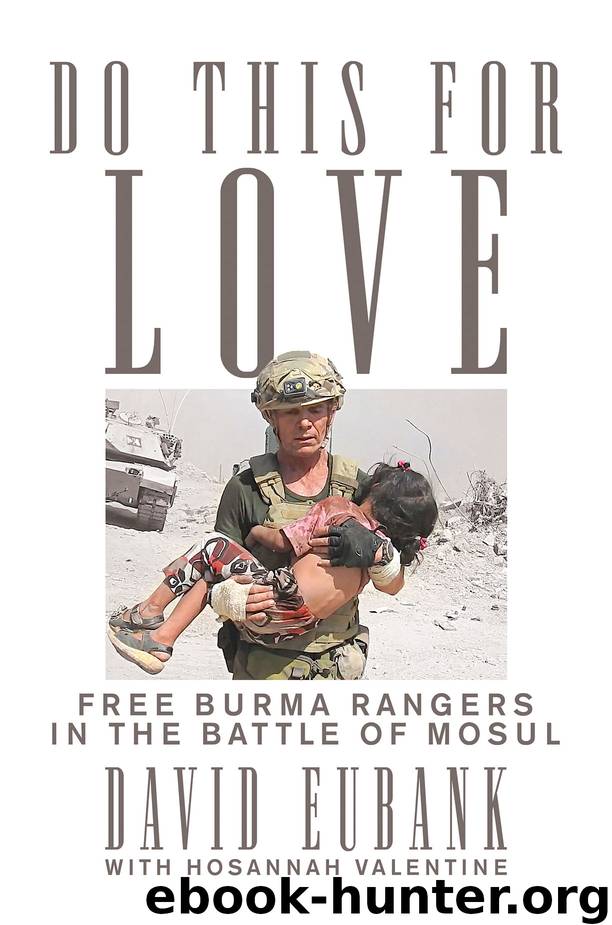 Author:David Eubank
Language: eng
Format: epub
Tags: N/A
Publisher: Post Hill Press
Published: 2020-05-09T16:00:00+00:00



This was going to be a mission for the 36th Bde of the 9th Division with a few divisional assets from the 15th Division and a few other units. All the Iraqi commanders met to plan it. I attended the planning meetings, which were two nights in a smoky room with lots of tea and Arabic discussion over maps and tablets as they hammered out the details. The morning after the second night of planning, I went for a run with Karen—the running here wasn't great because we had to stay in a tiny area between the buildings controlled by the Iraq Army. By then it was freezing, so we'd be all bundled up in mittens and balaclavas in the semidarkness at 6:30 a.m. because, if it was fully light, we'd get shot at by ISIS snipers in the open spots. We were running little circles around the group of buildings where our guys were, and I said, "I think they're going to do this attack. Should I go?"
I was still pretty new to this unit and didn't want to be chasing fights. Our job was to help people, not fight. This was different than when we had rescued the cooks because it was an attack, not a rescue. If I went, it would just be me because there wasn't enough room in the assault vehicles for everyone; I didn't want to abandon the team. I didn't know what God wanted. We prayed as we ran, and as we finished, I could see the Iraqis were loading their vehicles. I asked General Mustafa, "Do you need me?"
He said, "If you can go further up the front and set up a more forward casualty collection point and help us there, that's the biggest thing. If we need you forward, we'll call you up later. This should be a pretty simple mission."
They all took off, and our team divided: Karen, the kids, and Riley stayed at the division CCP with Dr. Osama (Hosie had just left to meet other commitments), while I took Joseph, Zau Seng, Sky, Ezadine, Shaheen, Jake, and an Iraqi medic named Faiz to set up the forward brigade CCP, which was to be located in an abandoned school.
At the school, we met a private named Mohammed, who was part of the 36th. He was a smiling, soft-spoken man and, as we introduced ourselves, he said, "Welcome. Are you from America? I want to go to America." He was a Humvee driver who would eventually become my driver and a key part of our team.
For the first thirty minutes, we waited, just listening to the booms and machine-gun fire from the hospital complex the 36th was attacking. Then the first casualties came in. At first, there weren't many, just three or four wounded, but soon more, and more seriously wounded, started coming in—and then came the first of those killed in action.
By about 2 p.m., it was becoming a pretty big fight. Joseph and Sky were busy with patients, and I jumped in to help.
Download


Copyright Disclaimer:
This site does not store any files on its server. We only index and link to content provided by other sites. Please contact the content providers to delete copyright contents if any and email us, we'll remove relevant links or contents immediately.