Complexity Theories of Cities Have Come of Age by Juval Portugali Han Meyer Egbert Stolk & Ekim Tan
Author:Juval Portugali, Han Meyer, Egbert Stolk & Ekim Tan , Date: July 6, 2020 ,Views: 101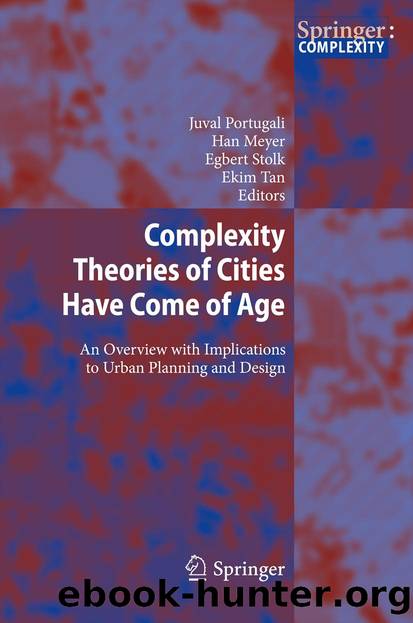 Author:Juval Portugali, Han Meyer, Egbert Stolk & Ekim Tan
Language: eng
Format: epub
Publisher: Springer Berlin Heidelberg, Berlin, Heidelberg



An example of a transition is a society's shift from the use of fossil fuels to sustainable energy sources. As a result of global warming, geopolitics, and the depletion of fossil fuels, other perspectives on energy sources are rapidly being developed. One such perspective is a society that functions on 'renewables'. As the new forms of renewable energy remain difficult to transport and are largely dependent on local conditions, the spatial environment suddenly becomes a determining factor in the development of such energy sources making a good location essential (Van Kann and De Roo 2009).
The shift in focus in spatial planning from 'defence against the water' (building ever-higher dikes) to 'allowing rivers room to breathe' (meandering and varying flux) can also be seen as a transition (Van der Brugge et al. 2005). Meandering rivers are no longer straightened, nor dikes raised higher and higher, with the objective of using space efficiently and functionally. This approach ultimately proved too rigid and inadequate in terms of responding to climate change and the dynamics of water flows. As a result, the emphasis in water-management policy shifted to an integral approach and a stronger integration of watercourses with their spatial context. This has already produced new spatial concepts, including overflow polders, climate-buffer areas, 'breathing' rivers, and even restoring old meandering watercourses (Van den Brink 2009; Woltjer 2007).
The changing relationships between the urban and the rural can also be seen as a succession of different transitions. Less than a century ago, the urban area and the countryside were largely separate systems. In the twentieth century, urban and rural areas became increasingly integrated, and 'peri-urban' areas emerged as interfaces between them. The urban and the rural are now integrated to such an extent that both have become part of a new system on a larger scale—the urban region (Rauws and De Roo 2010).
These three examples of transition in the spatial domain were caused by a combination of mutually exclusive and mutually reinforcing processes. These processes were partly autonomous and partly the result of deliberate intervention. In any case, from a complexity perspective, the role of planners in spatial development is perceived as more modest than in the traditional technical–rational planning approaches. The planner is not creating reality, but is responding to it or, at best, trying to shape it, in order to reduce the possible negative effects and embrace the positive ones.
This implies that it could be worthwhile reviewing the focus of planning. It may give rise to a more realistic perspective on the way in which spatial developments arise. In addition, it could also be more realistic to place the emphasis on guiding, anticipating and integrating spatial changes rather than aiming to manage and control them. The ambition for planners could therefore be to minimize the negative aspects of changes and make full use of the positive effects. This means we are adapting positively to an environment that evolves regardless. We call this 'adaptive planning' (Holland 1995).
Download


Copyright Disclaimer:
This site does not store any files on its server. We only index and link to content provided by other sites. Please contact the content providers to delete copyright contents if any and email us, we'll remove relevant links or contents immediately.