Cold War on the Airwaves by Nicholas J. Schlosser
Author:Nicholas J. Schlosser , Date: August 2, 2020 ,Views: 36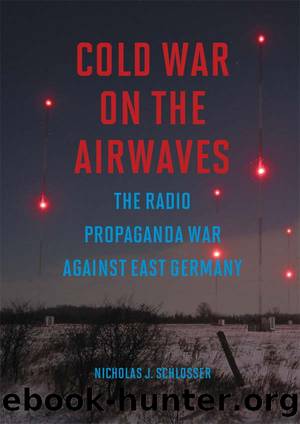 Author:Nicholas J. Schlosser
Language: eng
Format: epub
Publisher: University of Illinois Press



RIAS is the enemy of every honest and upright German! RIAS is the mouthpiece for the child murderers of Korea, for the murderers of Ethel and Julius Rosenberg, the murderers of Hiroshima and Nagasaki, the murderers of Bitburg. RIAS is the mouthpiece of those bankrupt criminal bands, which want to plunge Germany into the abyss of ruin in 1954. RIAS has ready in hand the torch that will spark a new war for their employers, the U.S. billionaires.15
As with many GDR radio broadcasts, the GDR anti-RIAS campaign sought to draw continuities between RIAS and the propaganda of the Nazis. A number of cartoons appeared featuring two grinning caricatures of Joseph Goebbels and Adolf Hitler looking down approvingly on an RIAS reporter. One cartoon featured a man lying in a chair, hand raised in a Nazi salute, yelling through an RIAS and NWDR microphone. From the microphone emerged, in writing, a number of the lies supposedly being broadcast by the two stations: that Christmas is banned in the GDR, that the Rubel will be the new form of currency in the Eastern Zone, and that West Germany was not rearming. The cartoon then entreats its reader, "RIAS and NWDR are war-mongers! Smash the lies of the enemies of the people!"16 These exact caricatures of Hitler and Goebbels appear in another cartoon, this time behind a growling American soldier speaking into an RIAS microphone and carrying a bomb with a death's head symbol on it. The cartoon then declares, "RIAS Hounding is War Hounding!"17 A third example using the same Goebbels-Hitler caricature featured the two looking down upon an American soldier sitting behind a desk. The cartoon is titled "Whom does RIAS serve?" On the desk lies a plan for an invasion of the Soviet Union. In the soldier's hand is an RIAS microphone. Emitting from the microphone is the word "RIAS" with words and phrases standing in for each of its letters: "R" for "Revanchepolitik" (Revenge Policy), "I" for "Intervention," "A" for "Antibolschewismus" (Anti-Bolshevism), and "S" for "Spionage Sabotage" (Espionage and Sabotage).18
The pamphlets, cartoons, and posters cited above were intended to evoke fear of RIAS. It was not just a radio station, the material declared, but also a dangerous spy center that aimed to plunge Germany into another war. Yet not all anti-RIAS propaganda was aimed at depicting RIAS as a terrifying institution. Some targeted RIAS listeners, characterizing them as individuals whose gullibility and naiveté threatened to destroy the GDR and world peace. One of the clearest depictions of this notion is seen in a cartoon from the February 1, 1956, issue of Eulenspiegel. It depicts a buxom woman, with a bottle of milk under one arm and a jar of honey in the other, standing in the window of a cardboard house, with the RIAS logo overhead. A curious man looks at a sign next to her that reads, "Here flow milk and honey." Yet it is clear that the house is merely a façade, for behind the woman is an army barracks and nothing else.
Download


Copyright Disclaimer:
This site does not store any files on its server. We only index and link to content provided by other sites. Please contact the content providers to delete copyright contents if any and email us, we'll remove relevant links or contents immediately.