Climate Chaos by Ana Isla
Author:Ana Isla , Date: October 20, 2019 ,Views: 185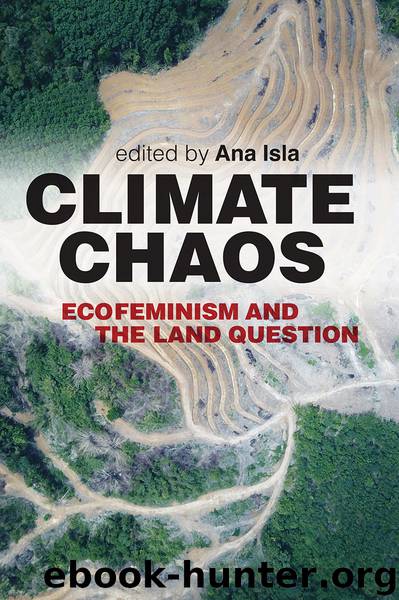 Author:Ana Isla
Language: eng
Format: epub
Publisher: Inanna Publications
Published: 2019-10-19T16:00:00+00:00



8.
Climate Change and Environmental Racism
What Payments for Ecosystem Services Means for Peasants and Indigenous Peoples
ana isla
The fifth assessment report (ar5) of the Intergovernmental Panel on Climate Change (ipcc) released to the United Nations Framework Convention on Climate Change (unfccc) in November 2014 confirmed that "human influence on the climate is clear, and [that] recent anthropogenic emissions of greenhouse gases are the highest in history. Recent climate changes have had widespread impacts on human and natural systems" (ipcc "Fifth Assessment Report" 2). The Fifth Assessment Report also predicted further increases in average surface temperatures, and demonstrates that anthropogenic emissions such as fossil fuels, cement, and flaring, as well as forestry and other land uses, are central in the warming of the climate worldwide. Many scientists agree that the most effective way to respond to the loss and damage of ecosystems produced by global warming is to reduce greenhouse gas emissions made by coal, oil, gas, and cement in large corporations located in the U.S. (21), Europe (17), Canada (6), Russia (2), Australia (1), Japan (1), Mexico (1), and South Africa (1) (Heede). As the Fifth Assessment Report states, "Limiting climate change would require substantial and sustained reductions in greenhouse gas emissions that, together with adaptation, can limit climate change risks" (8). A net reduction in emissions by 2050 could keep global warming below two degrees Celsius (3.6 degrees Fahrenheit). However, scientists argue that two degrees Celcius is a sure prescription for a long-term disaster (Roach).
While the large-scale drivers of deforestation and climate change remain unaddressed, a grim concern at the United Nations Conference on Climate Change (unccc) was the development of numerous "payments for ecosystem services" (pes) for carbon capture. In this chapter, I analyze the unccc neoliberal political ecology of monetizing nature: first, through the Kyoto Protocol, an international treaty which extends the 1992 unfccc that commits State Parties to reduce greenhouse gases emissions; and second, through redd+ (Reducing Emissions from Deforestation and Forest Degradation), a mechanism that has been under negotiation by the unfccc since 2005, with the objective of mitigating climate change through reducing net emissions of greenhouse gases in the industrial world as long as it can purchase carbon credits from indebted rainforest-dense countries. There are several other schemes for payment for ecosystem services resulting from the Conference of the Parties on Climate Change that I do not cover in this piece due to space constraints.
I focus here on the ways that corporations and governments in industrial countries maintain the fiction that they can achieve emissions reductions by buying forestry certifications that attest to the claim that carbon has been absorbed in the forest in question. In this chapter, I draw on ecofeminist subsistence perspectives and ecosocialism to look at the use of the forest as a source of carbon credits. My purpose is to challenge claims often made by the unccc that the "green economy" creates social equality, reduces poverty, confronts ecological destruction, and combats climate change. Instead, I argue that the "green economy" is a
Download


Copyright Disclaimer:
This site does not store any files on its server. We only index and link to content provided by other sites. Please contact the content providers to delete copyright contents if any and email us, we'll remove relevant links or contents immediately.