China Briefing, 1991 by William A. Joseph
Author:William A. Joseph [Joseph, William A.] , Date: August 6, 2022 ,Views: 4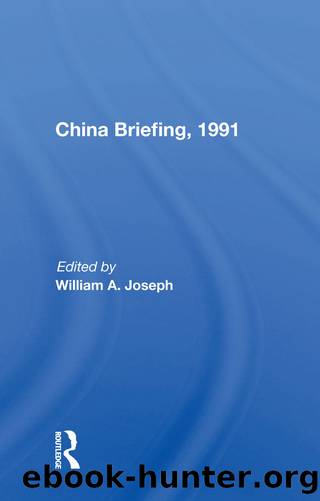 Author:William A. Joseph [Joseph, William A.]
Language: eng
Format: epub
Tags: Social Science, Political Science, World, Asian, Regional Studies
ISBN: 9780429719400
Google: WsuqDwAAQBAJ
Goodreads: 16113552
Publisher: Routledge
Published: 1992-01-01T00:00:00+00:00



Implementation of the One-Child Policy
When the one-child limit was first promoted in 1979, two basic methods were used to gain mass compliance. First and most important, the CCP relied on well-honed campaign methods of implementation, including: the use of mass propaganda in all available media; mobilization of all party cadres and activists to take the lead in pledging to have only one child; organization of medical teams to move into the countryside to carry out abortions, sterilizations, IUD insertions, and other medical procedures; and mobilization of the local population for study of the new policy, followed by its immediate implementation under heavy pressure from local officials (up to and including the use of coercion). Second, the party also offered political and economic rewards for compliance, including preferred housing, better jobs, longer maternity leaves, free medical care, and educational opportunities.
In the late 1970s and the early 1980s, these methods were effective in gaining compliance, since administrative controls over the population were tight and pervasive. In urban areas, couples of childbearing age were closely supervised in their workplaces or neighborhoods. Fertile women were monitored for pregnancy, and a permit system was established to determine who was allowed to have a child in a given year; those with unplanned pregnancies faced heavy fines, loss of their jobs and apartments, and political ostracism if they refused to abort the pregnancy. In rural areas a similar permit system was established, identifying couples who were eligible to have a child in a given year. Women's leaders often made menstrual cycles a matter of public record, posting the names of all women of childbearing age and checking monthly to ensure that they did not become pregnant "outside the plan." Those who failed to comply could be compelled to attend study sessions daily without pay. Moreover, rural cadres, who controlled all aspects of the local economy, had the power to deny couples a means of livelihood.
As Chinas leaders began to implement more far-reaching reforms in the 1980s, however, campaign methods were increasingly at odds with other regime goals, making it difficult to rely solely on "shock drives" to enforce the one-child limit. In urban areas, campaigns were replaced by a permanent, institutionalized system of administrative control. Although many residents in overcrowded cities were willing to stop at one child, the administrative control system was a formidable deterrent to those who were less willing.
Download


Copyright Disclaimer:
This site does not store any files on its server. We only index and link to content provided by other sites. Please contact the content providers to delete copyright contents if any and email us, we'll remove relevant links or contents immediately.