Checkpoint Charlie by Iain MacGregor
Author:Iain MacGregor , Date: November 6, 2019 ,Views: 209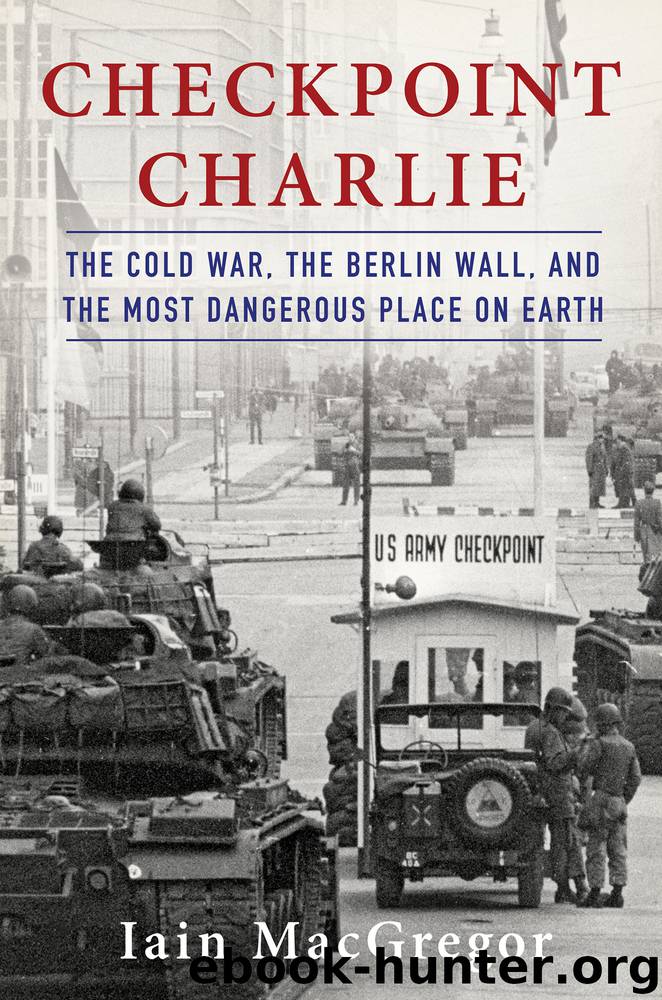 Author:Iain MacGregor
Language: eng
Format: epub
Publisher: Scribner
Published: 2019-11-04T16:00:00+00:00



CHAPTER FOURTEEN Going Underground
It had been a fairly uneventful shift for the military policemen stationed at Checkpoint Charlie in the early hours of the morning on January 9, 1972. Apart from the usual diplomatic, civilian, and military traffic passing through to and from East Berlin, the main focus was keeping warm on duty in the predawn of a bitterly cold January morning. The icy wind often swept across the vast expanse of the wasteland between the two border controls, buffeting the American flag flying at the checkpoint and the high-pitched singing of the telegraph wires that stretched along Friedrichstraße. It was a night to be tucked up in bed. As the harsh lights of the Wall illuminated the small military checkpoint hut a hundred yards away, two figures slowly emerged from the frozen ground a few yards farther on from the base of the Wall. It was a bizarre sight as they quickly reached down into the hole to grapple with a third miner as he struggled to extricate himself from the small hole his fellow tunnelers had just climbed out of. They then proceeded to hug one another wildly.
Taking in the clean, fresh air of freedom, the three East German men blinked at the bright lights ahead and studied the buildings on the western side—as if for the very first time. Of course, it was indeed their first experience standing as free men in the American sector, by Zimmerstraße and Friedrichstraße. Their story of escape is remarkable in that it was made so close to Checkpoint Charlie, where so many border guards were situated for preventing illegal crossings. The problem for the East German authorities was they expected to actually see their "border violators" in the flesh before they stopped and arrested them. Tunneling under the Wall just wasn't expected. For Peter Schöpf and brothers Peter and Manfred Höer, their three-week operation was following the tradition of a long line of their fellow East Germans who had chosen a subterranean route in their bids for freedom.
Download


Copyright Disclaimer:
This site does not store any files on its server. We only index and link to content provided by other sites. Please contact the content providers to delete copyright contents if any and email us, we'll remove relevant links or contents immediately.