Blasphemous Modernism by Pinkerton Steve;
Author:Pinkerton, Steve; , Date: May 7, 2021 ,Views: 41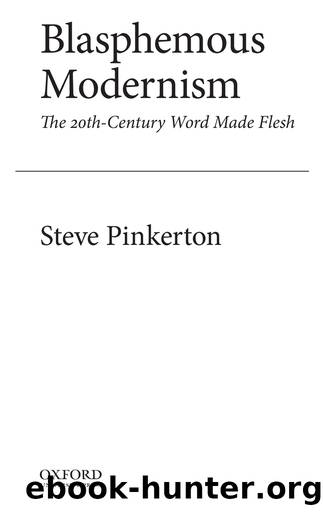 Author:Pinkerton, Steve;
Language: eng
Format: epub
Publisher: Oxford University Press USA - OSO
Published: 2017-05-15T00:00:00+00:00



You see, Myra, as Jesus, it was the desire of God, my Father, that I, by my deaths, expiate the sins of the world… . God had me sin, and die, that I might be born again from the womb of the woman with whom I sinned… . To me was it a great thing that the hands that caressed me on that cross between thieves should give sensations that were the loving hands of a mother with her just-born babe… . And always was I afraid that at some time would I love a woman and in procreation die again. Always I knew that I could not suffer alone. And that is the way in which I atone for the sins of the world. (151–52)
Christ's story, transplanted onto this parodic figure of the messianic poet, becomes an erotic tale of love and death through countless generations. The savior's own "sin" begets his next incarnation in this irreverent conflation of mother-love, Agape, and sexual desire. At the end of Gentleman Jigger's Part I—which corresponds to the story told in Thurman's Infants of the Spring—Aeon dies in a "terrible traffic accident" (161). One wonders, though, whether the real cause of his death was his "sin" with Myra, the love that would cause Aeon "in procreation [to] die again"—and it remains unclear what sort of redemption, if any, he achieves. Whereas Locke's anthology cast Toomer as the most likely candidate for the messianic New Negro, Nugent makes Toomer a figure of the doomed, failed messiah: one more likely to be crushed by an oncoming car than to redeem his race through literature. Likewise, while Thurman's Infants cites Toomer as the only African American artist with "the elements of greatness," it also portrays him as one of the many "Negroes of talent [who] were wont to make one splurge, then sink into oblivion" (221, 62).
Thurman's and Nugent's separate invocations of Toomer as the model, yet failed, Negro redeemer are particularly telling, because by the time Infants of the Spring was published, Toomer had not only apparently failed to make good on the promise he'd exhibited in Cane nearly a decade earlier; he had also repudiated any racial affiliation with "Negroes," let alone New Negroes. If he was to be a messiah, he wanted to herald the dawn, not of a new day in the black race, but of a brand-new "American" race at whose coming he had already hinted in Cane.32 In their satirical treatments of Toomer, Infants of the Spring and Gentleman Jigger both participate in the tradition established by The New Negro of heralding Cane's author as The One. But given all that had changed since 1925, their appropriations of Toomer take on a decidedly cynical and disillusioned flavor. By the early 1930s, these novels suggest, the elusive New Negro had come to seem less "morning star" than dying star—and one that refused to be tethered to any racial program, let alone a sacred African American calling. Gentleman Jigger takes the implicit commentary a
Download


Copyright Disclaimer:
This site does not store any files on its server. We only index and link to content provided by other sites. Please contact the content providers to delete copyright contents if any and email us, we'll remove relevant links or contents immediately.