An Ensuing Evil and Others: Fourteen Historical Mysteries by Peter Tremayne
Author:Peter Tremayne [Tremayne, Peter] , Date: April 8, 2021 ,Views: 35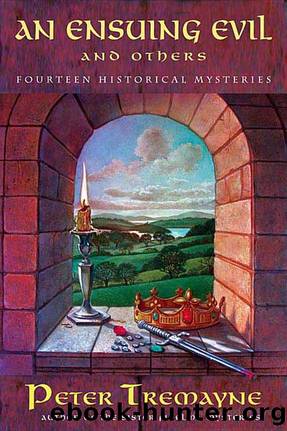 Author:Peter Tremayne [Tremayne, Peter]
Language: eng
Format: epub
Tags: _NB_fixed, _rt_yes, Church History, Fiction, Historical, Mystery & Detective, tpl, Women Sleuths, Mystery, Clerical Sleuth, Medieval Ireland
ISBN: 9781429909686
Google: YrvNJVxtqOgC
Publisher: Macmillan
Published: 2007-04-01T04:00:00+00:00



This is one of those papers.
I must confess that there are few occasions on which I have seen my estimable friend, Sherlock Holmes, the famous consulting detective, in a state of some agitation. He is usually so detached that the word calm seems unfit to describe his general demeanor. Yet I had called upon him one evening to learn his opinion of a manuscript draft account I had made of one of his cases which I had titled "The Problem of Thor Bridge."
To my surprise, I found him seated in an attitude of tension in his armchair, his pipe unlit, his long pale fingers clutching my handwritten pages, and his brows drawn together in disapproval. "Confound it, Watson," he greeted me sharply as I came through the door. "Must you show me up to public ridicule in this fashion?"
I was, admittedly, somewhat taken aback at his uncharacteristic greeting. "I rather thought you came well out of the story," I replied defensively. "After all, you helped a remarkable woman, as you yourself observed, while, as for Mr. Gibson, I believe that he did learn an object lesson—"
He cut me short. "Tush! I do not mean the case of Grace Dunbar, which, since you refer to it, was not as glamorous as your imaginative pen elaborates on. No, Watson, no! It is here"—he waved the papers at me—"here in your cumbersome preamble. You speak of some of my unsolved cases as if they were failures. I only mentioned them to you in passing, and now you tell me, and the readers of the Strand Magazine, that you have noted them down and deposited the record in that odious little tin dispatch box placed in Cox's Bank."
"I did not think that you would have reason to object, Holmes," I replied with some vexation.
He waved a hand as if dismissing my feelings. "I object to the manner in which you reveal these cases! I read here, and I quote…" He peered shortsightedly at my manuscript. " 'Some, and not the least interesting, were complete failures, and as such will hardly bear narrating, since no final explanation is forthcoming. A problem without a solution may interest the student, but can hardly fail to annoy the casual reader. Among these unfinished tales is that of Mr. James Phillimore, who, stepping back into his own house to get his umbrella, was never more seen in this world.' There!" He glanced up angrily.
"But, Holmes, dear fellow, that is precisely the matter as you told it to me. Where am I in error?"
"The error is making the statement itself. It is incomplete. It is not set into context. The case of James Phillimore, whose title was Colonel, incidentally, occurred when I was a young man. I had just completed my second term at Oxford. It was the first time I crossed foils, so to speak, with the man who was to cause me such grief later in my career… Professor Moriarty."
I started at this intelligence, for Holmes was always
Download


Copyright Disclaimer:
This site does not store any files on its server. We only index and link to content provided by other sites. Please contact the content providers to delete copyright contents if any and email us, we'll remove relevant links or contents immediately.