Ace, Deuce, Trey by KC Kendricks
Author:KC Kendricks [Kendricks, KC] , Date: October 19, 2020 ,Views: 4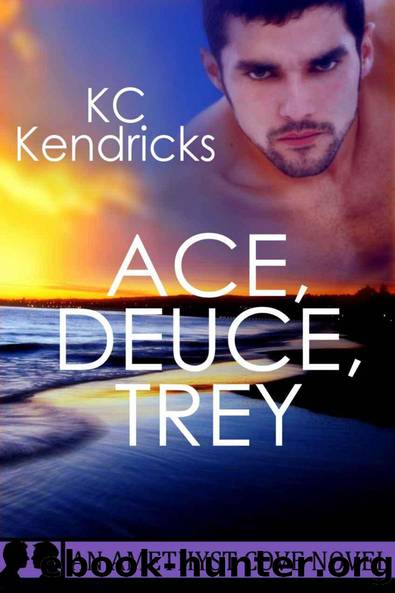 Author:KC Kendricks [Kendricks, KC]
Language: eng
Format: epub
Tags: Gay & Lesbian
ISBN: 9781611247121
Publisher: Amber Quill Press, LLC
Published: 0101-01-01T00:00:00+00:00



Chapter 10
"I have all sorts of plans, but let's get some fuel first. My belly thinks my throat is cut."
Right on cue his stomach growled and gurgled. I held my hand out to him so he could pull me up off the sofa. I stretched and yawned. It'd been a long day and I wasn't finished yet.
"You start the shower while I text that note to Sheldon."
He nodded and headed for the bedroom, peeling out of his shirt as he went. I really was tired. Maybe I should wait until morning to go to the office. I had my best laptop tucked safely on a closet shelf. We could eat and then come home. It would be good enough for tonight. The message sent to Sheldon, I fixed two on-the-rocks glasses and put one on each nightstand, then called Kelly's for a reservation.
Rick stood face up to the pelting spray when I climbed in the shower behind him.
"I called Kelly's. First open table is at seven o'clock."
"Great. Gives us time for a drink."
"Ready and waiting in the bedroom. What did you do with the soap?"
He handed me a sopping wet washcloth with the bar wrapped inside. I rubbed the cloth to work up a good lather and scrubbed his back before I began to work on my own hygiene. Then we traded soap and shampoo. Rick did my back while I worked up a head-full of suds. I leaned back against his broad chest as he skimmed his hands over my hips, then dipped low to my groin.
"Ian. You're so beautiful."
In my mind's eye, I saw his glowing green eyes, dark hair, and honest smile. "You're not so bad yourself, Agent Mohr."
"Not like you. How'd I get so lucky?"
"Um, you came to your senses in the nick of time?"
Rick fondled my package with slick, soapy hands. "I guess I did. You're tired, aren't you?"
He didn't need to ask. The lack of response from my dick said it all.
"Yeah, I am, but I want--I need--a good meal."
Rick kissed my shoulder. "I'll rinse and let you have the shower all to yourself for a bit."
"Thanks, hon. I'll meet you on the mattress."
He nodded, stepped out of the tub, and grabbed a towel. I stepped under the full spray and let my mind clear of everything except the feel of the hot water coursing over my skin. It was heavenly, but I knew I couldn't stand under the flow until the water cooled. I craved a few minutes flat on my back to rest. Even more worrisome was how badly I wanted the shot of bourbon. I turned the water off and reached for the towel Rick had thoughtfully laid on the vanity for me. He was reclined on the bed, drink in hand, when I entered the bedroom. He lifted the glass.
"Thanks for this, Ian. I need it."
"I was just thinking the same thing." I draped my towel over the chair and stretched out beside him. I tapped the rim of my glass to his.
Download


Copyright Disclaimer:
This site does not store any files on its server. We only index and link to content provided by other sites. Please contact the content providers to delete copyright contents if any and email us, we'll remove relevant links or contents immediately.