A Simple Wish About love: Small Town Romance (Silver Ridge Series Book 5) by Karice Bolton
Author:Karice Bolton [Bolton, Karice] , Date: August 6, 2020 ,Views: 188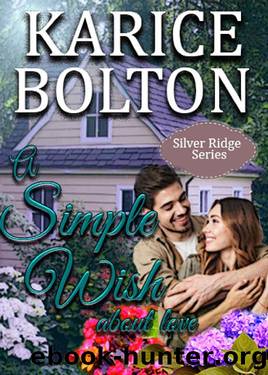 Author:Karice Bolton [Bolton, Karice]
Language: eng
Format: epub
Published: 2020-06-25T16:00:00+00:00



Chapter Thirteen
Slade's mom popped out the front door the moment the Uber pulled up in front of the house he'd grown up in. Nothing had changed except the color of flowers his mom had planted this spring, which were purple and the shade of blonde she dyed her own locks. You'd never know by looking at her that she had the same dark hair that he and his brother had.
"Hey, Mom," Slade called out as he grabbed his duffle.
"My boy." She dashed down the stairs and made her way to Slade, arms out and a wide smile plastered on her face. "I'm so glad I get to see you. I've missed you."
He dropped his duffle and hugged his mom. She was thinner than when he last saw her, but she still smelled of vanilla and roses.
"I've missed you." He took a step back as his dad came wandering out.
"Good to see you, Son." His dad smiled and took him in for a hug.
He loved his parents, and he and his brother had always been close to them, but Slade always felt a little bit like an outsider, like he was the screwup of the batch. Even now, he felt oddly out of place, and his parents weren't doing a thing to make him feel like that. It was completely on him.
"How are you doing?" His dad slapped Slade's arm and squeezed. "Still plenty of time for working out."
Slade nodded and picked up his duffle. "There isn't much else to do."
His mom scowled and turned toward the front door. "I thought you were giving us the cold shoulder because you'd found someone."
"Hardly." Slade drew a breath as he walked into his home.
It was so hard to look around and not see his brother. It felt like Lucas should be bounding down the hallway any second.
"It's good to have you home." Slade's mom wandered by him and down the hall to the kitchen, and his dad scooted by him to go up the stairs.
"I have to do my stretches for my knee. I'll meet you in the kitchen in a few minutes."
"How's it going?" Slade asked.
"Doc says if the PT doesn't work, I'll need surgery."
Slade grimaced. His father had always been invincible.
But so had his brother.
Slade watched his dad march up the stairs and hollered, "I hope it works."
"You and me both." His dad waved and left Slade to stare at all the pictures lining the hallway to the kitchen. He could smell something wonderful wafting through the air. His mom thrived on feeding people. This kitchen was where he'd learned to bake.
He thought back to Erika's surprise when she learned he could wear an apron with the best of them.
"What's in the oven?" Slade asked as his mom filled up a water glass.
"Pineapple upside-down cake."
Slade smiled and let out a sigh. "I haven't had that for years."
"It's not every day you come to visit."
"And I'm sorry about that." Slade nodded. "I really am. I'm going to do better."
Slade's mom walked over to him and pinched his cheek.
Download


Copyright Disclaimer:
This site does not store any files on its server. We only index and link to content provided by other sites. Please contact the content providers to delete copyright contents if any and email us, we'll remove relevant links or contents immediately.