A Nail, a Rose by Madeleine Bourdouxhe
Author:Madeleine Bourdouxhe [Madeleine Bourdouxhe] , Date: November 20, 2019 ,Views: 62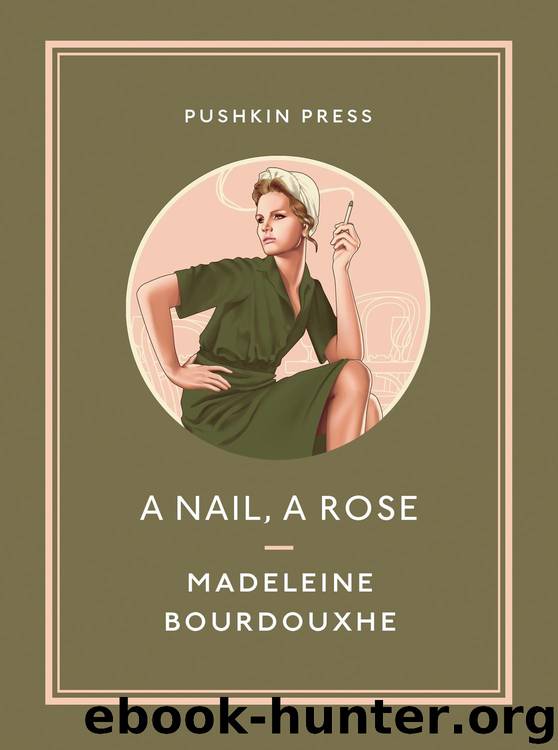 Author:Madeleine Bourdouxhe [Madeleine Bourdouxhe]
Language: eng
Format: epub
ISBN: 9781782275145
Publisher: Steerforth Press
Published: 2019-11-19T16:00:00+00:00



Jasminot, Carrol, Leslie and Ortiguez were all in the small café, standing by the bar with a group of people. As I shook hands with them, I saw Carrol's eyes linger tenderly on the little jacket I'd thrown over my shoulders at home. It's true, it was a smart jacket and one I didn't often wear, but I hadn't put it on because of that.
Carrol came up to me and lightly touched my wrist in a sad caress. 'Leah, my love,' he said. I drank the wine that my comrades gave me; but when I held out my hand to take the glass, and raised it to Carrol's, it was as if it had really remained inert on the bar, as if it was waiting for something. The curve traced by my hand as it rose with the glass reminded me of the dots that children have to join up into a line with a black pen in drawing books. The raised hand signified nothing at all; no movement counted, the only truth was that my hand had really remained inert on the bar, waiting for something, so that it was the invisible hand that drew the firm black outlines.
Jasminot was talking to me, everyone was talking to me, but I didn't hear them. I answered them but I didn't hear my answers. At that moment their words had absolutely no importance for me. All I was waiting for was nightfall, for the day to be well and truly over, as the shouting of a crowd dies away.
As I slipped on my jacket Carrol started playing with my belt, laying it flat on the bar, wrapping it round his wrist. 'Give it here,' I said. I tied the belt firmly round my waist and bade the men farewell.
Download


Copyright Disclaimer:
This site does not store any files on its server. We only index and link to content provided by other sites. Please contact the content providers to delete copyright contents if any and email us, we'll remove relevant links or contents immediately.