A Heritage of Faith by Ayodeji Abodunde
Author:Ayodeji Abodunde , Date: July 5, 2020 ,Views: 211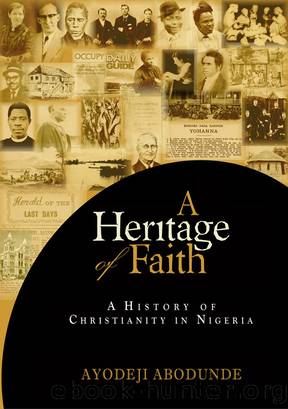 Author:Ayodeji Abodunde
Language: eng
Format: epub
Tags: Christianity;Nigeria;History;Faith
Published: 2016-06-08T02:43:54+00:00



In 1953, a Latter Rain team from the United States visited Nigeria to hold crusades. The team included Thomas Wyatt, Fred Poole (superintendent of the Apostolic Church in America), Adam McKeown and Stanley Hammond. 48 Wyatt, the leader of the team, was not a member of the Apostolic Church: he was the pastor of an independent church in Portland, Oregon. The visit was undertaken with the cooperation of the leadership of the Apostolic Church in Britain. 49
Their first meeting was at the Apostolic Church, Ebute Metta, where Wyatt preached. Here a significant miracle occurred: a paralyzed Muslim beggar was completely healed. Wyatt had commanded him to get up and walk, and he immediately threw down his crutches, stood up and began walking. 50 One of those present at the meeting recalled the scene:
To my utter amazement the man I had been watching struggled to his feet, supporting himself with crutches. He discarded them and, stumbling at first, pushed his way onto the platform. In no time at all he was standing on the platform in front of us, facing the congregation, and he began jumping up and down excitedly. Someone passed him his crutches. Grasping them he raised them up while he continued jumping. With someone's aid he removed a back-brace he had been wearing and held this up as well. Now there were dozens of other folk scrambling to get to the platform. One lady standing there and praising God turned to us. Pointing to her eye she said excitedly: "I can see! I can see!" The whole church was a mass of moving people with glowing faces. The noise was unbelievable. But pandemonium ensued because those who weren't healed came to the front for hands to be laid on them, and I don't know what happened to those still lying on the floor. It was impossible to restore order, so we had to close the meeting. It was a great pity the delegation didn't stay in Lagos then, as the next night the church was packed and they had to send the people away. 51
News of the miracles went all around Lagos. Large healing crusades followed in several parts of the country: about 20,000 people attended the Ilesa meetings, and about 15,000 were present in Ibadan. The Calabar crusade was reported by The Nigerian Daily Standard of February 23, 1953:
Throughout the week people received their sight, cripples walked, and the dumb and deaf spoke and heard. Diverse diseases were cured, not by medicine but by the Divine visitation that fell on the people. Rev. Wyatt traced the various elevations of faith in Christians and compared them with (1) The faith of a ruler that had a child sick; (2) The woman with the issue of blood; (3) The Centurion who only asked Jesus to speak and his servant would be well. . . . [Some of those] who gave testimonies of themselves before the microphone were: Titus Ukpong of Ikot Ante suffered from paralysis—now cured. Madam Iquo Udo Edel of Edgerly Road, Calabar, who for many years was suffering from blindness—now cured.
Download


Copyright Disclaimer:
This site does not store any files on its server. We only index and link to content provided by other sites. Please contact the content providers to delete copyright contents if any and email us, we'll remove relevant links or contents immediately.