1916 in 1966 by Mary E. Daly
Author:Mary E. Daly , Date: April 6, 2017 ,Views: 713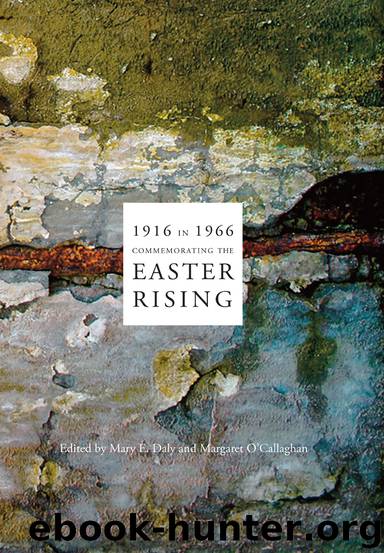 Author:Mary E. Daly
Language: eng
Format: epub
ISBN: 9781904890270
Publisher: Royal Irish Academy
Published: 2014-02-28T16:00:00+00:00



COMMUNAL MEMORY
Whyte's aforementioned supposition that new forms are built out of elements already present on the scene of construction is accompanied by his assertion that this idea only applies to mythical perceptions, which derive from traditionalised memory. He distinguishes between two types of communal memory—traditionalised and rational. In traditional societies, or those parts of modern societies not yet modernised, 'experience is conceived to belong to the present, while meaning, or the moral significance of experience, is conceived as residing in the past'. He asserts that this part of the communal memory presents itself as tradition and as such stands at odds with memory that has been rationalised, that is, organised, catalogued and stored in institutions created to serve as depositories of information; a feature of so-called modern societies. 26 The delay of the arrival of the post-World War II boom to the Republic meant that in 1966 both types of memory—traditionalised and rational—contested the same space. This resulted in messages of a conflicting nature prevailing in 1960s Ireland. One need only compare the spirit of the Lemass–O'Neill talks in 1965 and de Valera's speech at the closing ceremony of the commemor­ations, when the president asserted that he, for one, was never going to believe that the land of the O'Neills and the O'Donnells would remain permanently severed from the rest of the country. 27 In 1966, deference predominantly went to the past, however, and commemoration practices, by their very nature traditional, would lend themselves more easily to traditional perceptions.
That the past would not hinder an economically successful and more cosmopolitan future was, however, the aim of the new national project, as defined by Lemass; and this was reflected in the work of the Study Group on the Teaching of History in Irish Schools, commissioned by the government in 1966. This group asserted that
while history should give us greater knowledge of the individuals who share our environment and of those who have contributed to the independence and freedom we now enjoy, it should do more than illustrate this by examples of sublime patriotism, self-sacrifice and unswerving commitment to noble ideals.28
Teaching the past
The abandonment of protectionism and plans to pursue foreign capital for investment in employment-intensive manufacturing industries drew attention to educational policy, as it was recognised that such policy played an essential role in economic development. In 1965 a four-man team that had been appointed three years previously submitted a report from the Organisation for Economic Co-Operation and Development (OECD) entitled 'Investment in Education'. This report assessed the inadequacy of existing educational arrangements for achieving the state's new economic objectives. With this in mind, one can perhaps identify the impetus for forming a study group on Irish history, as a new operating version was needed for a changing Ireland.
The committee on the teaching of history consisted of two historians, Dr Margaret Mac Curtain and Professor T.D. Williams; a psy­­chologist, Professor S. McKenna; an economist, Mr M. O'Donoghue; a teacher, Mr T. McGillicuddy; a headmaster, Dr R. Cathcart; and a parent, Mrs R.
Download


Copyright Disclaimer:
This site does not store any files on its server. We only index and link to content provided by other sites. Please contact the content providers to delete copyright contents if any and email us, we'll remove relevant links or contents immediately.