07 by H. M. Ward
Author:H. M. Ward , Date: August 26, 2017 ,Views: 1050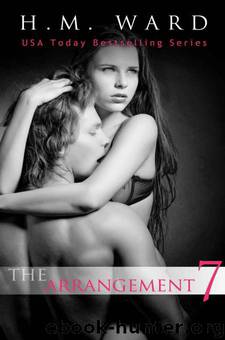 Author:H. M. Ward
Language: eng
Format: mobi
Published: 0101-01-01T00:00:00+00:00



CHAPTER 6
"No," Miss Black's voice is firm. I called to tell her that we're leaving the hotel for a while. "I forbid it, Avery. If you leave, Gabe will make you wish you hadn't."
"So, I'm stuck here until Sunday morning?"
"Yes, that was written in your contract. It was explicit. Mr. Ferro has possession of you until that time. You are to do as he asks with the stipulation that you remain at the same location. I can't have you traipsing all over New York and still protect you. How would I do that?"
"Have Gabe drive us." I offer. Sean is watching me as I talk to Black. He grimaces like that was a terrible idea.
"No, stay at the hotel with Mr. Ferro. This conversation is over." She's mad. I seem to have a knack for pissing her off. The line goes dead before I can say another word.
"She hung up on me!"
Sean walks over and slides his hands around my waist. He leans in and kisses my neck. "We could go back to bed."
"No, not yet. This is important Sean." I clutch my temples, trying to ward off the headache that's growing behind my eyes. It's important because it frees him, I know it will. It's the only connection that I can make. Sean acts like himself when he forgets, when he does things that he hasn't done before. Sledding takes him back to before he was married, before his life turned to shit. I want to give him that, I want it so badly that I can't imagine staying in this room all day, tormenting him with my touches. I want to scream.
Sean takes my wrists and pulls my hands away from my face. "I'll take care of it. You go call down for extra blankets and a couple thermoses of hot cocoa."
"But—"
"Do it," he commands and swats my butt as he pushes me away.
"She isn't going to listen to you either." I sulk and walk to the phone next to the couch. Sean gives me a wicked grin before stepping out onto the balcony. He's out there forever. When he steps back inside, he brushes the snow off his shoulders and smiles at me.
"Done. Grab your coat and let's go." As he walks toward the door, Sean strips off the damp sweater. I lean forward, staring at his chest. He smiles at me before pulling on another one—black this time. "Glad you like it."
I do. He's pure yummy when he's half naked and smiling like he owns the world. For the life of me, I can't figure out how he got Black to agree. She sounded like she wanted to bite my head off. "How'd you—?"
Sean pushes me toward the door. "Money talks, Avery. I hired that thug that drives you around, too. He'll be here in a few minutes with sleds. I have to say this is the weirdest arrangement I've ever made. I just hired a guy to kick my ass if I get too handsy with you.
Download


Copyright Disclaimer:
This site does not store any files on its server. We only index and link to content provided by other sites. Please contact the content providers to delete copyright contents if any and email us, we'll remove relevant links or contents immediately.