04 by H. M. Ward
Author:H. M. Ward , Date: August 26, 2017 ,Views: 932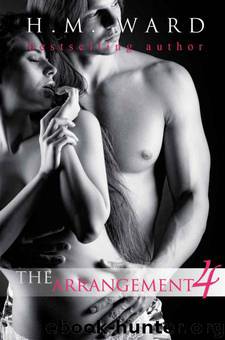 Author:H. M. Ward
Language: eng
Format: mobi
Published: 0101-01-01T00:00:00+00:00



CHAPTER 7
The rest of the week is more of the same—more sleepless nights, more tension that won't ease out of my muscles, more distance from my friends. Mel watches me closely. It makes me feel brittle, like I'll lose it if she says something to me, so I avoid her for a few days. Marty is even worse. Ever since he broke that test tube in lab, he's become more distant. I wish I knew what I did that made him like this, but I won't ask. I know he won't tell me.
Miss Black called me midweek and told me that I would be an escort this weekend, to show up at her place on Friday night at 6:00pm and she'll go over the details. It's an hour before our meeting. I'm trying to pin up my hair into a loose up-do. I hope it looks sexy and not sloppy. There's a fine line with hairstyles and I'm never really sure which side of the line I'm on.
I slip into my only dress and heels and head for my car. On the way outside, I see Marty walking toward me in the parking lot. His eyes sweep over me and he grins. "Hey, hooker. Got a hot date?"
I smirk in response. "Maybe. And calling me 'hooker' is really weird."
"Yeah," Marty replies, looking at me from under his lashes like he's a big kid. He's all smiles again. It's nice. "I'd rather call you tramp anyway."
I lightly punch his arm and lean into him. I'm surprised when he pulls me in for a bear hug. Crumpling my dress, Marty holds me so tightly that I can't breathe. Whatever made him upset with me seems to be gone. Thank God. I need him. I had no idea how much support he gave me until he was gone. Marty spins me around once and sets me down.
Laughing, I smack his chest. "You ass! You wrinkled my dress. And, if you're going to call me by my nickname, at least get it right. I'm Tramperella. See," I say pointing at my silvery shoes, "glass slippers."
Marty laughs, but there's an oddness to it, like he won't ever call me that. His eyes dart away. "Better get going, right? It's not like you can skip it tonight, is it?"
I shake my head. "No. I have to fix this. I'll see you later. It shouldn't be all night." Marty perks up at that. He smiles, says he'll wait up for me and heads into the dorm to look for Mel. For some reason, she's home tonight. Maybe she has a stash of cash and only works when she runs out. I wish I could plan ahead like that. I kind of suck at planning. Obviously.
I arrive at Miss Black's and take the elevator up to her floor. When I step out, Gabe is standing there. I nearly walk straight into him. "Oh," I say, startled, and step back. "Is Miss Black here?"
The large man nods and says nothing, gesturing for me to go around him.
Download


Copyright Disclaimer:
This site does not store any files on its server. We only index and link to content provided by other sites. Please contact the content providers to delete copyright contents if any and email us, we'll remove relevant links or contents immediately.