...And This Is How It Ends: The True Story of Minivans, Switchblade Combs, and the Homeless by Jen Sky
Author:Jen Sky [Sky, Jen] , Date: July 20, 2020 ,Views: 199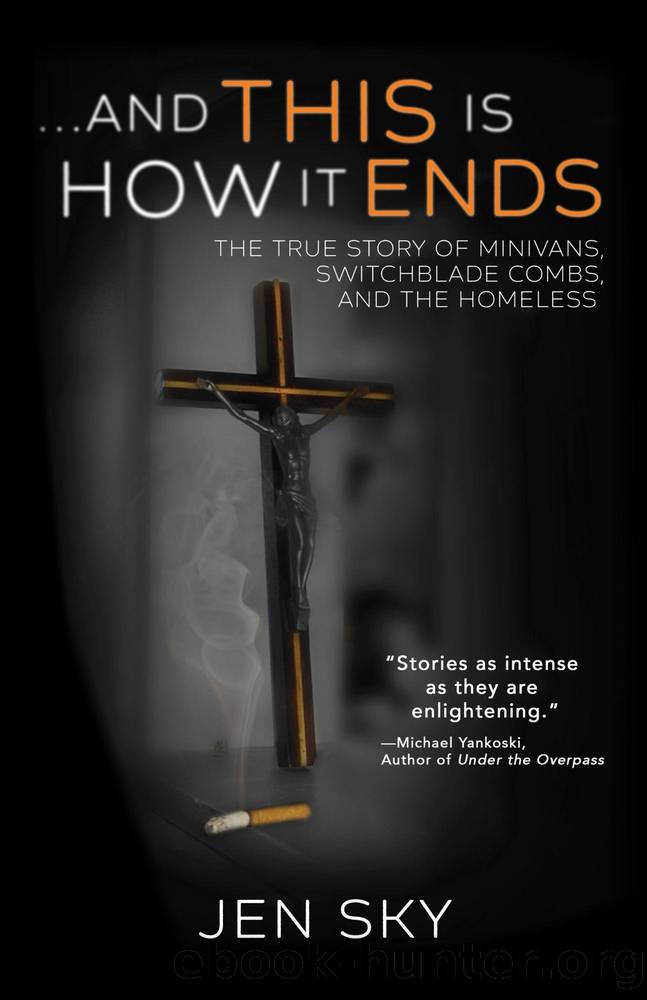 Author:Jen Sky [Sky, Jen]
Language: eng
Format: azw3
Published: 2018-07-10T16:00:00+00:00



Chapter 9
THE SOUS CHEF
"Do all the good you can, by all means you can, in all the ways you can, in all the places you can, at all the times you can, to all the people you can, as long as you ever can."
John Wesley
When Natalie first began meeting homeless friends, she offered to pray for them. She began decorating and distributing the Bibles to any homeless who wanted them. These highlighted, colorful Bibles have the verses brought to life, and they became something sought after in the homeless community. At one of the early Sunday lunches, Natalie was offering her Bibles to the group of homeless men who were there. When she left, she gave them a business card with her contact information, telling them that if anyone wanted a Bible later to contact her.
Something got lost in translation, and while requests started pouring in, they were not for Bibles. Instead, they were food requests!
"What I wouldn't give for a pork chop."
"What I really miss is macaroni and cheese."
These and many other requests came to her inbox. Some wanted a sleeping bag, and others wanted a tent. Not wanting to turn them away, she mentioned the requests to the group, and the leadership role, the Sous Chef, was born. Lisa and a few others within our Under the Overpass team began to make single portion homemade meals upon request. These meals were made specifically for the individual who had been dreaming about or missing something in particular during their time on the streets. While it certainly ran counter to what John (Natalie's first homeless friend) would have suggested, these Sous Chef meals connected our team in such an incredible way to the people we were serving. The Sous Chefs were by far our most popular volunteers.
We were treating people as if they were family, taking care to provide something they would really like and enjoy. While it was something small, it endeared a number of the homeless to our group and the bonds of friendship continued to grow. On our end, there was a tremendous satisfaction in being able to give someone such a highly prized gift. For many who had been on the streets for a long time, the luxury (or idea) of choosing what to eat was unheard of – certainly not a dish prepared lovingly and solely for them.
The chefs involved received great joy in making these special entrees. The larger missions and shelters were unable to provide personalized meals just because someone missed a favorite food. These small acts of kindness rippled far and wide in our joint homeless/volunteer community.
While many of the missions and shelters attempt to meet basic food needs, the variety is often lacking. A church can more easily provide sandwiches, pizza, or a crock of chili, but it is far more difficult (and expensive) to provide a balanced meal with meats, vegetables, and fruits. Our network of volunteers took great care in our menu planning for the Sunday meal. It was important that we were providing a nutritious and delicious meal.
Download


Copyright Disclaimer:
This site does not store any files on its server. We only index and link to content provided by other sites. Please contact the content providers to delete copyright contents if any and email us, we'll remove relevant links or contents immediately.