Whereabouts by Jhumpa Lahiri
Author:Jhumpa Lahiri [Lahiri, Jhumpa] , Date: May 7, 2021 ,Views: 59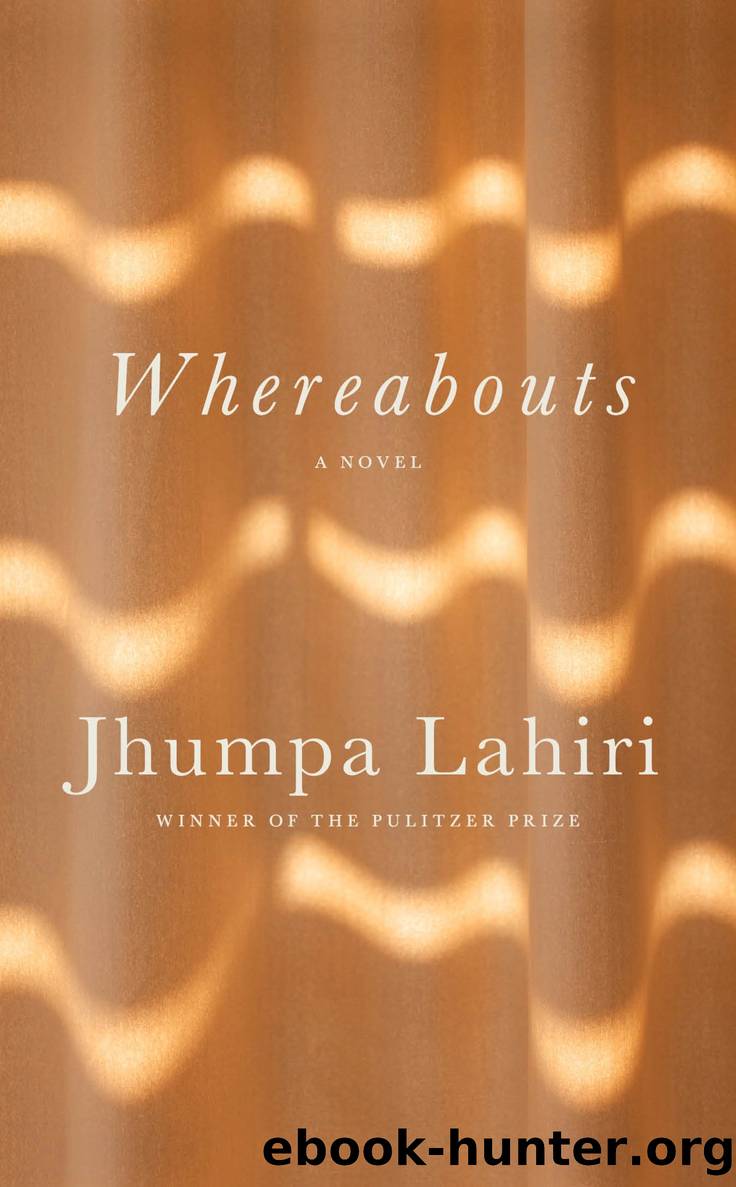 Author:Jhumpa Lahiri [Lahiri, Jhumpa]
Language: eng
Format: epub
Publisher: Knopf Doubleday Publishing Group
Published: 2021-04-27T00:00:00+00:00



At Dinner
A bachelor friend of mine likes hosting dinners at his house. He lives on the top floor of a building which has a lovely terrace that looks out over cupolas and antennas. It's a charming place to pass the time. But tonight's windy, so we'll eat inside. I take the elevator as far as it goes, then climb a flight of stairs to reach his apartment. He lives in a sort of playhouse, full of tight corners and dark, exposed beams. The rooms, all of them small, lead from one to another, without a hallway. Almost all the rooms have a bed and cushions strewn on the floor, and lots of books, so that at any moment, in any given room, you can sit down and read or take a nap. I think a child would love it here. But my friend, an elegant and learned man in his sixties, never had children.
Because the ceilings are low and sloped we have to duck our heads before taking a seat at my friend's table. "Watch your heads," he always says. The guests tend to vary, apart from a small core of people that includes me. Typically, I don't ever see the others again. He runs a sort of social laboratory that lasts for a few hours and seldom repeats itself.
I came on foot tonight, swallowing mouthfuls of cold air, and I've worked up an appetite. I'm a little late, the others are already sitting on the sofas. I have a glass of wine and eat some peanuts. I say hello to someone who directs films, then a journalist, then a woman who writes poetry, then a psychologist, then a couple from the North who are here to spend their honeymoon.
She irritates me off the bat, maybe because she doesn't bother to look at me when she shakes my hand. She's a woman in her thirties, with a sturdy build, but her face is thin and pointy, as if it belongs to another body. She wears her sleek hair pulled back and her extra pounds look good on her, rendering her appealingly solid.
She talks about the city. She's a bit over the top, she's got an opinion about everything. She interrupts me when I'm in the middle of telling the others what I do for a living. She shifts everyone's attention to a painting over the sofa. She claims she knows the artist personally. He's got some talent, she says, but is overrated. All of her opinions get under my skin, everything she says feels off the mark, even a little impertinent. But at the same time I'm drawn to her energy, she's magnetic, someone who knows how to hold a crowd.
We're eight around the table. After we finish the soup the others stop talking, and she and I carry on. We're discussing a film, which I liked, so I defend it. But she insists that the actor, a famous leading man, gave a terrible performance.
Though I'm not drunk
Download


Copyright Disclaimer:
This site does not store any files on its server. We only index and link to content provided by other sites. Please contact the content providers to delete copyright contents if any and email us, we'll remove relevant links or contents immediately.