War Minus The Shooting : A journey through South Asia during the 1996 Cricket World Cup by Mike Marqusee
Author:Mike Marqusee [Marqusee, Mike] , Date: November 25, 2021 ,Views: 58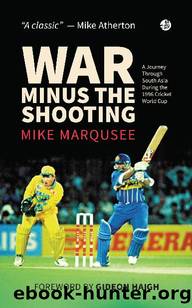 Author:Mike Marqusee [Marqusee, Mike]
Language: eng
Format: epub
Publisher: 81allout Publishing
Published: 2021-11-13T00:00:00+00:00



9.
The last gentlemen
The Sri Lankans had long been patronised as the cuddly cubs of the cricket world, admired for their modesty and decorum on the pitch but consigned to the second rank of the international hierarchy, along with Zimbabwe and New Zealand. Now suddenly they seemed a team packed with classy cricketers, mixing flair and discipline, adventure and experience to maximum effect. Where had these guys come from? Who were they? And how had Sri Lankan cricket survived, and apparently flourished, amid war, racism and repression?
During my stay in Colombo, I had scrutinised the Sri Lankan newspapers with fascination. There was an advert for Janashakthi Life Insurance that filled most of a single page:
Not for the sake of a ribboned coat,
Or the selfish hope of a season's fame,
But his captain's hand on his shoulder smote,
Play up! play up! and play the game.
We wish our boys all success in the Wills World Cup
and look forward to seeing them flourish
in their inimitable style and spirit.
On the page opposite, the Bank of Ceylon welcomed World Cup guests to the 'land of renowned sportsmanship' and the National Savings Bank wished everyone 'a glorious display of cricket, lovely cricket played like gentlemen and played with zest.' You wouldn't find adverts like these in India or Pakistan—or England. A passage in the Daily News schools cricket review caught my eye: 'Self-discipline, strength and clear-mindedness are vital for cricketers... Cricket is gentlemen's game. It teaches you discipline and character.' The island seemed haunted not only by the spectre of ethnic violence but by the ghosts of Hughes and Newbolt.
'An element of nineteenth-century colonial ideology survives here through cricket,' a Marxist acquaintance had told me. 'The public school ethos is more alive here than it is in England, and it saturates Sri Lankan education, whether it's private or state or whatever religion or language. If you want to understand Sri Lankan cricket, you must see schools cricket.' During my stay in Colombo, schools in Sri Lanka were closed on government orders, a response to the LTTE threat that some believed had undermined the assurances given to the Australians. But schools cricket went on as it always has— through war, peace, ethnic pogroms and election violence.
The distinctive ethos of Sri Lankan schools cricket can be traced back to the first meeting between Royal College and St Thomas's in 1879. The fixture was the brainchild of the Cambridge Blue turned Royal College master, Ashley Walker, but it is now an entirely Sri Lankan institution. The Royal-Thomian remains one of the biggest events of the season, regularly attracting crowds of fifteen to twenty-thousand, and at times out-drawing Test matches. While the new boys compete at cricket, the old boys of both schools drink themselves silly. There is music and dancing and cheering and good-natured barracking, none of which you would see at the Eton–Harrow prototype. Schools cricket is the seedbed of Sri Lanka's international stars. All its World Cup players were developed through the school system as surely as Bevan, Law and Ponting were developed by the Australian academy.
Download


Copyright Disclaimer:
This site does not store any files on its server. We only index and link to content provided by other sites. Please contact the content providers to delete copyright contents if any and email us, we'll remove relevant links or contents immediately.