Twenty-One by James Holland
Author:James Holland [Holland, James] , Date: September 10, 2022 ,Views: 148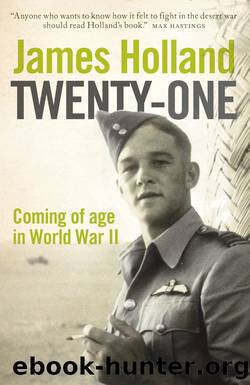 Author:James Holland [Holland, James]
Language: eng
Format: epub
ISBN: 9780007438396
Published: 0101-01-01T00:00:00+00:00



By October, the Battle of Britain had begun to peter out. As the days shortened, so the amount of combat flying lessened. Both flights in the squadron took it in turns to carry out duties as night-fighters, Bee adding to his mounting personal score. He finally left the squadron in May 1941, a year after the Blitzkrieg in the west. By that time, it had changed greatly since the days of the Phoney War in France. In those twenty months, Bee had served under five commanding officers and seven flight commanders, and he was one of the last pilots to have been with the squadron since the beginning of the war. Some had moved on, others had been wounded, but a large number had been killed. Bee told me that the first good friend he lost was a terrible blow; the second was felt a little less. By the time half a dozen of his friends had been killed, he'd learnt to put it out of mind and get on with the job in hand. 'I think we gradually developed a protective shell,' he confessed. Despite the intensity of the Battle for France and the Battle of Britain, Bee was to witness greater losses later in the war, by which time he was commanding firstly a squadron of Typhoons and later a wing of Tempests. Principally used for ground-attack, these aircraft were consequently flown at much lower altitudes where the chances of safely baling out were much less.
It was Bee who was instrumental in establishing these aircraft for use in ground-attack and other low-level operations. He had little to say to me about his time with 79 and 54 Squadrons, or about his first stint as test pilot at Hawker, although he did admit that his intimate knowledge of the Typhoon acquired during his time with Hawker was 'very useful' when he joined 609 Squadron in the summer of 1942. The squadron had only just been equipped with Typhoons. As Bee was well aware, this new fighter was not really ready for operational use at this time. There were teething problems not only with the engine, but also when the plane was put into a power dive; entire tail structures were disintegrating. In its first couple of months with the Typhoon, 609 lost four pilots purely due to engine failure. Bee, however, continued to argue for its retention, twice putting his case forward at Fighter Command HQ. Believing in the Typhoon as an aircraft that could out-manoeuvre, out-gun, and fly quicker than anything the Luftwaffe possessed, he hated the idea of it being permanently grounded. What about the loss of life it was causing, I wondered? Yes, he accepted, that was a tragedy, but he knew that the pressure of operational failures would hasten the speed with which these problems were straightened. Winning the war was the goal – and the Typhoon and later the Tempest, which evolved from the same design – had important parts to play in that victory.
Download


Copyright Disclaimer:
This site does not store any files on its server. We only index and link to content provided by other sites. Please contact the content providers to delete copyright contents if any and email us, we'll remove relevant links or contents immediately.