TRANSCENDING THE MAYA MATRIX: Using the Seven Simple Steps: Our Innate Guide to Co-Creation & Self-Realization by OMAR M. Makram
Author:OMAR M. Makram [Makram, OMAR M.] , Date: August 1, 2020 ,Views: 349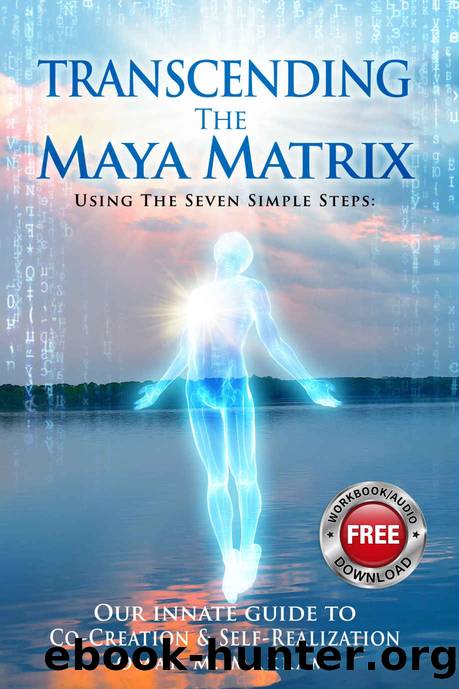 Author:OMAR M. Makram [Makram, OMAR M.]
Language: eng
Format: azw3
Publisher: Intentional Beings, LLC
Published: 2018-01-19T16:00:00+00:00



Authentic Expression Leads to Transcendence
Authentically expressing resistant emotions leads to releasing resistances and creating more flow. Authentically expressing fluid feelings leads you to tap into and flow with your Soul. Both types of expression lead to Co-Creation and Self-Realization.
Being attracted to positive emotions is a natural tendency. Feeling good is good. Your natural instinct is not lying to you. But the more we bring the light of awareness2 to positive emotions, the more they reveal their content. Some of those positive emotions are not as fluid as they seem to be. This is the reason I believe that naming emotions can sometimes be misleading, a masquerade. We see beyond the initial layer of emotions when we deepen our Awareness of Being2.
I explained before that feeling rich is not the same as feeling abundant. Feeling rich can be an escape from feeling poor. If this is the case, both the rich feeling and the poor feeling are manifesting in our reality. The rich feeling is a perception that we need to keep recreating over and over because it cannot sustain itself. On the other hand, feeling abundant is a Realization7. We don't create abundance, we allow it. It is unleashed through the practice of the Seven Simple Steps. It is abundance that wants to manifest through you because it is already an aspect of your Soul. Realizing abundance is the knowing7 that abundance has been, and always will be, a part of you.
Some people create situations where they become bosses or are in charge of other people, so that they can cover up their feelings of inadequacy. They are actually looking for self-validation while inadequacy is still actively manifesting in their reality. As I mentioned before, the only solution to this misleading illusion is to transcend our emotions from the two-dimensional plane of polarities, or the push/pull tension, to an all-inclusive, win/win and fluid dimension. It is our Innate Guide that helps us navigate this through the Seven Simple Steps.
Download


Copyright Disclaimer:
This site does not store any files on its server. We only index and link to content provided by other sites. Please contact the content providers to delete copyright contents if any and email us, we'll remove relevant links or contents immediately.