Tom Clancy's Shadow of the Dragon by Cameron Marc
Author:Cameron, Marc [Cameron, Marc] , Date: November 13, 2020 ,Views: 801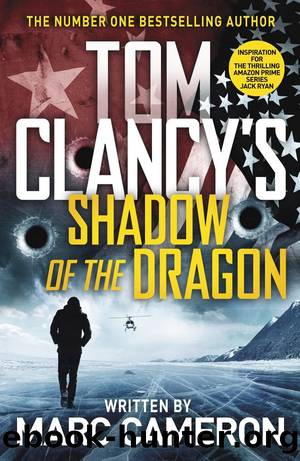 Author:Cameron, Marc [Cameron, Marc]
Language: eng
Format: epub, azw3, mobi
Tags: Fiction, Policital Thriller, Thriller/Action & Adventure
ISBN: 9781405947572
Publisher: Penguin Random House
Published: 2020-10-13T00:00:00+00:00



29
It seemed a simple assignment. Pick three names, one of which would be randomly selected for a suicide mission.
Wan Xiuying sat alone in his quarters, curtain drawn, listening to the terrified sobs of the young crew, smelling the stench of melted metal and the cloyingly sweet odor of cooked flesh. Hunched over his small, fold-out writing desk, the thirty-one-year-old executive officer of the PLAN nuclear ballistic submarine Long March #880 clutched at his forelock with one hand while he tapped his pencil on the blank sheet of paper.
The captain's only criteria were that the candidates be brave, calm under pressure, and physically fit enough for the mission.
Wan pushed the pencil so hard with his thumb that it snapped in half. How could he pick the next men to die? Most of them were mere boys. Fifteen were already dead, burned to death or killed by smoke inhalation when PLAN nuclear ballistic missile submarine Long March #880 suffered an engine room fire. A dozen more were sick or injured. All of them were terrified. One seaman's apprentice who had witnessed the fire had gone out of his mind, screaming "Sixty-one, sixty one," over and over as he ran back and forth in the narrow passageways. In 2003, all seventy crewmen aboard the Great Wall #61, an older, Ming-class sub, had suffocated at their stations when the diesel generator failed to turn off and used up all the oxygen on board. Any submariner in the fleet who denied having dreams about the disaster was lying.
This should not have happened to Wan Xiuying. He was an up-and-coming star of PLA-Navy's relatively nascent blue-water submarine force. He'd wanted to be a submariner since he was a small boy, reading every book and watching every movie about submarines that he could get his hands on. Most of the movies were in English, which had afforded him a perfect opportunity to study American idioms. Though they were meant to make the Americans look heroic, they almost always showed the captain and the first officer at odds over command of the vessel. Commander Wan hoped that was the truth. It would make beating the Americans easier in a pitched sea battle if the two men who were supposed to be in charge of the ship were constantly at each other's throats like they were in Crimson Tide—or in the book Run Silent, Run Deep … In U-571 the captain did not trust the XO to make difficult decisions—decisions like Commander Wan now found himself facing. The list of conflicts was almost endless.
Wan revered and respected Captain Tian. He felt certain the feeling was mutual. Were it not so, Captain Tian would have, no doubt, personally stuffed his XO in a torpedo tube and gotten him off the boat.
Tian was a senior captain, would have certainly been promoted to admiral after this tour. He had quite literally grown up with the Chinese Navy and understood the pressing need not only to build excellent submarines, but to build excellent submariners.
Download


Copyright Disclaimer:
This site does not store any files on its server. We only index and link to content provided by other sites. Please contact the content providers to delete copyright contents if any and email us, we'll remove relevant links or contents immediately.