The Sword of the Truth, Book 06 - Faith of the Fallen by Terry Goodkind
Author:Terry Goodkind [Goodkind, Terry] , Date: August 6, 2020 ,Views: 118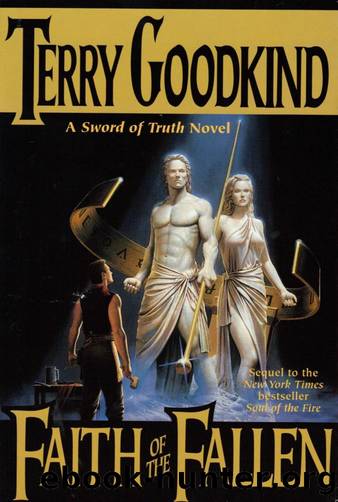 Author:Terry Goodkind [Goodkind, Terry]
Language: eng
Format: epub
ISBN: 0765344947
Publisher: Tor Books
Published: 2008-12-23T05:00:00+00:00



Chapter 36
"Mother Confessor?"
Kahlan squinted up at a dark shape above her. She blinked, clearing her vision, and saw that it was Verna. The gold sunburst ring of the Prelate of the Sisters of the Light reflected a glimmer of lamplight. Behind her, twilight tainted the tent canvas with a rusty glow.
Kahlan rubbed the sleep from her eyes. Verna wore a long, gray wool dress and a dark brown cloak. At her throat, the dress had a bit of white lace that softened the austerity of the outfit. Verna's brown hair had a carefree wave and spring to it, but her brown eyes held a troubled look.
"What is it, Verna?"
"If you have a moment, I would like to talk to you."
No doubt, Verna had been talking to Warren. Whenever Kahlan saw them together, the shared intimate glances, the chance furtive touch reminded her of the way she and Richard felt about each other. It softened Kahlan's feelings about Verna's stern exterior, to know she was in love-knowing, for that matter, that she was capable of tenderness. Kahlan knew that she, too, must be regarded with the same sort of curiosity, if not amazement, where tender feelings were concerned.
She sighed, wondering if this was going to be a "talk" about Ann and prophecy. Kahlan wasn't in the mood.
"Cara, how long have I been asleep?"
"A couple of hours. It will soon be dark."
As tight and sore as Kahlan's shoulders and neck were from sleeping with her head on the table, the lateness of the hour didn't come as a surprise. She stretched to the side and then saw the frail looking sorceress sitting on a short bench. She had a dark blanket over her lap.
"How do you feel?" Adie asked.
"I'm fine." Kahlan could see her breath in the frigid air. "The men we sent out?"
"Both groups be on their way, more than an hour ago," Adie said. "The first group, the Galeans, all left together in big columns. The Keltans dribbled out in small groups not as likely to be noticed by any spies watching."
Kahlan yawned. "Good."
She knew they had to fear an attack by the Imperial Order as soon as morning. At least that should give their men enough time to travel to their positions and be ready. Waiting for an attack made her stomach feel queasy. She knew the men, too, would be on edge and likely get little sleep.
Adie idly ran a thin finger back and forth along the red and yellow beads at the neckline of her modest robes. "I came back after the Galeans left, to help Cara keep people away so you would not be disturbed while you rested."
Kahlan nodded her thanks. Apparently, either Adie thought Kahlan had rested enough, or she thought Verna's visit was important.
"What is it, then, Verna?"
"We have . . . discovered something. Not so much discovered it, as had an idea."
"Who is `we'?"
Verna cleared her throat. Under her breath she beseeched the Creator's forgiveness before she went on.
"Actually, Mother Confessor, I thought of it.
Download


Copyright Disclaimer:
This site does not store any files on its server. We only index and link to content provided by other sites. Please contact the content providers to delete copyright contents if any and email us, we'll remove relevant links or contents immediately.