The Survival Savvy Family by Julie Sczerbinski
Author:Julie Sczerbinski , Date: December 23, 2017 ,Views: 1261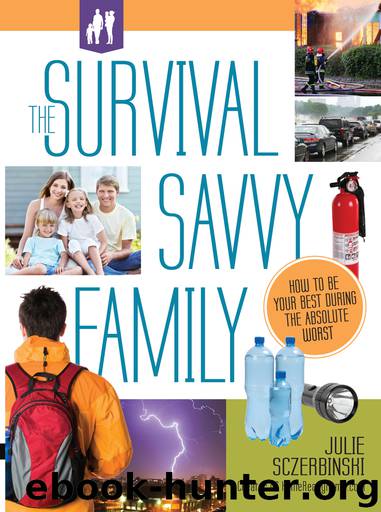 Author:Julie Sczerbinski
Language: eng
Format: epub
Publisher: F+W Media



HOW TO KEEP COOL
Power outages happen for a number of reasons, one of which is the extra demand air conditioners put on the power grid during a heat wave. Without air conditioners and electric fans, your home will heat up quickly. Here are some strategies for staying cool during a summer power outage.
ONE ROOM
Your first instinct will be throw open the windows to get some air but this can actually make the situation worse. Once the air temperature outside is higher than inside, opening windows will actually make you hotter. Keep the windows closed while the sun is out. When it goes down, open the windows and doors and let the cooler air inside.
Just like you don't want to attempt to heat your whole house during a winter power outage, you don't want to try to cool it during a summer power failure. Do the opposite of everything you just learned about staying warm. Look for a North facing room in your house to serve as a cool retreat for your entire family as it usually has the least amount of sunlight coming through the windows. If you don't have a North facing room, rooms with windows that are blocked by trees, awnings or a neighbor's house are the second best choice. Also, the lowest level of your home will be cooler than the upper floors. Once you've located the best space, close the blinds and hang towels or sheets over the windows to keep the heat out. Make a solar reflector out of cardboard cut to the windows' size. Use aluminum foil to line one side of the cardboard. Keep the reflector, foil side out, in the windows to reflect the heat during the day.
Stone, tile and hardwood floors are cooler than carpet, hence the reason why your dog sleeps on the bathroom floor during the summer months. If you're still struggling to find relief from the heat, follow Fido's lead and lay down on the bare floor.
Download


Copyright Disclaimer:
This site does not store any files on its server. We only index and link to content provided by other sites. Please contact the content providers to delete copyright contents if any and email us, we'll remove relevant links or contents immediately.