The Scum Villain's Self-Saving System: Ren Zha Fanpai Zijiu Xitong Vol. 3 by Mo Xiang Tong Xiu
Author:Mo Xiang Tong Xiu [Xiu, Mo Xiang Tong] , Date: August 15, 2022 ,Views: 23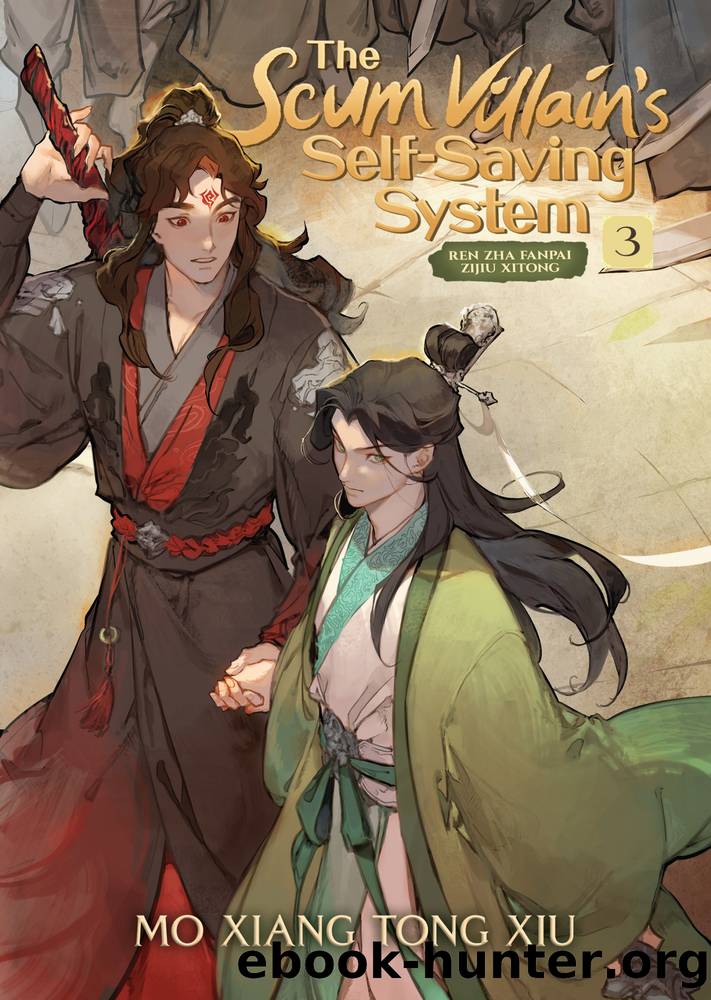 Author:Mo Xiang Tong Xiu [Xiu, Mo Xiang Tong]
Language: eng
Format: epub
Tags: light novel
Publisher: Seven Seas Entertainment
Published: 2022-06-15T07:00:00+00:00



***
When Shen Qingqiu opened his eyes again, he was no longer at Zhao Hua Monastery. He looked all around but saw absolutely no one.
From the look of things, he was in a dream realm. However, under normal circumstances, his current dreams always featured Qing Jing Peak. This was because he was connected to Luo Binghe's dream realm, and Qing Jing Peak was the latter's favorite dream realm location.
At a loss, Shen Qingqiu walked about for a while, carefully examining his surroundings. Suddenly, he realized that this was indeed Qing Jing Peak. However, it was Qing Jing Peak after it had been razed to the ground.
From the bamboo forests to the Bamboo House, all had been reduced to ashes. Only some crumbling debris and withered stalks remained, charred black and toppled over. Wisps of white and the scorched stench of smoke drifted above.
Faced with such utter desolation, the more Shen Qingqiu looked, the less he could remain calm. This was far too thorough a razing. What a massive grudge!
Shen Qingqiu pinged the System. "Can you explain the situation?"
【 Greetings. While the punishment is in progress, the System's other functions will not be available as usual. We ask for your understanding and wish you good luck. 】
So the punishment had already begun. Shen Qingqiu punched an imaginary wall in his mind.
Suddenly, the sound of footsteps on gravel reached his ears. The footsteps followed a pattern: each step was followed by a pause, slow but not hesitant. Instead, they gave off a sense of power, a feeling that the person in question was crouched in wait, ready to pounce.
In the midst of scorched earth and rubble, a silhouette slowly approached.
A cold wind blew, fluttering this person's black robes and wide sleeves. His face was a flawless snow-white, matching the overlapping panels of his collar. Arms crossed, he slowly sauntered forward.
An expression of contemptuous disdain hung upon his face, and from time to time he kicked the charred pebbles by his feet with an air of utter disinterest.
Inadvertently, Shen Qingqiu called out, "Luo Binghe!"
Luo Binghe blinked, and his head turned just a little. A cold, indifferent gaze pierced the air toward Shen Qingqiu. It fell upon him like the stabs of two icy knives. His heart jerked, and suddenly the wind felt too fierce, his clothes a bit flimsy.
Or else why would there be a chill along his forehead and back?
Luo Binghe raised an eyebrow and flicked some nonexistent dream ash off his sleeves. He let out a closemouthed, questioning hum, a hint of confusion within it.
Shen Qingqiu immediately stopped right there. This feeling was wrong.
Luo Binghe tilted his head. "Shen Qingqiu?"
This was even more wrong. The tone, the expression, the disposition. None of it seemed like Luo Binghe—but at the same time, they all seemed like Luo Binghe.
If compelled to give a clearer explanation, Shen Qingqiu would have said that the person standing before him right now, felt like…the original "Luo Binghe."
Shen Qingqiu froze on the spot.
With his lack of answer, "Luo Binghe" took a step toward him.
Download


Copyright Disclaimer:
This site does not store any files on its server. We only index and link to content provided by other sites. Please contact the content providers to delete copyright contents if any and email us, we'll remove relevant links or contents immediately.