The Man from Mars: His Morals, Politics and Religion by William Simpson
Author:William Simpson [Simpson, William] , Date: July 19, 2022 ,Views: 20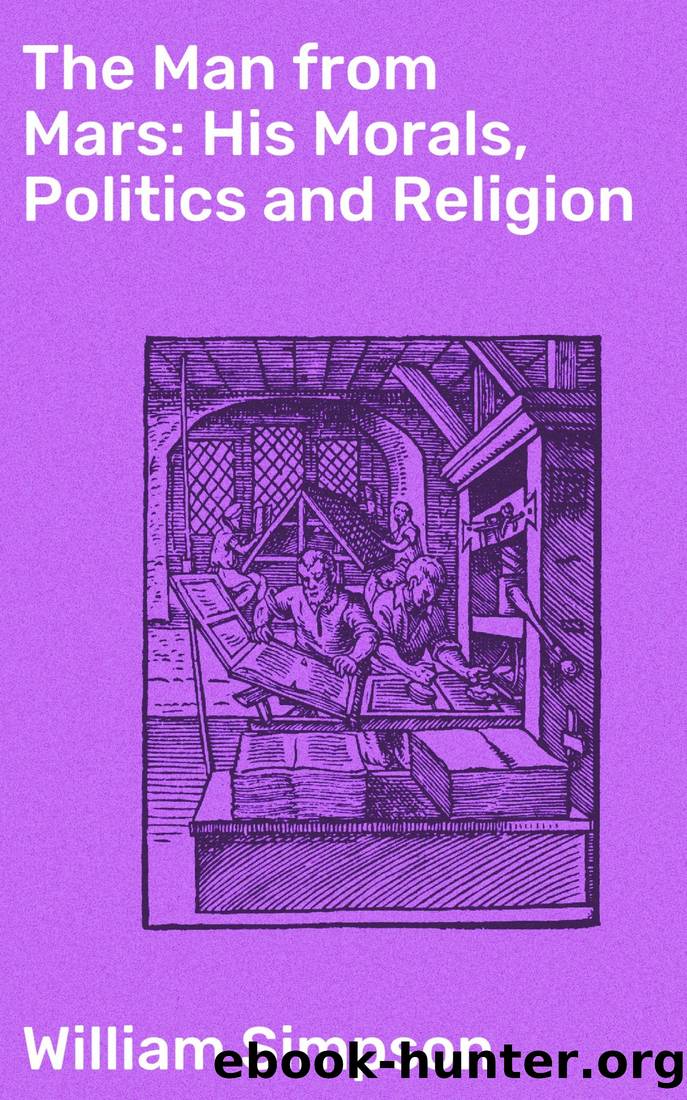 Author:William Simpson [Simpson, William]
Language: eng
Format: epub
Tags: Nonfiction, Reference & Language, Reference, Fiction & Literature, Classics
ISBN: 4064066123451
Google: Pr5ttgEACAAJ
Publisher: Good Press
Published: 2019-12-23T05:00:00+00:00



* * *
CHAPTER VIII.
The planet Mars is held to be the inheritance of those who are born upon it. Admitting the self evident and uncontrovertible justice of this view, our government ages ago assumed the ownership and property control of it in trust for the equal benefit of all. It has proceeded in accordance with this view to grant its uses for all the purposes of industry and pleasure, in such a manner as to bestow the income of its rent equally upon every living inhabitant. I can only give you some outlines of our admirable manner of accomplishing this purpose.
Our agricultural districts are divided into small farms, even in size, with graded rents in accordance with the richness of their soils, and other conditions. Sub-letting is not allowed, and a chief purpose in making these allotments is, that the family residing upon each farm will be able to perform all the labor required. This is in accordance with a principle which our government carries out in all possible ways, to bring labor and capital into partnership. The cultivator of the soil goes on with his improvements, in the assurance that they are as secure to him as though his title were perpetual; for in the event of a change of tenancy, which is exceedingly rare, a fair value is returned to him for all the fixed property which is the product of his labor. It is provided that there shall be no competition in the occupancy, and as the rent is but a nominal sum, he feels no insecurity in his possession. Agricultural rents are graded annually, and are payable shortly after harvest. They may be either higher or lower than those of the preceding year, depending entirely on profits.
Landlordism, as it exists with you, is unknown amongst us. The rapacity which under your unjust system is admitted to an ownership in which no competition can possibly exist, and at the same time is permitted to avail itself of that unlimited competition which the pressure of public necessity induces, has neither foothold nor abiding place upon our planet. Under our system, you will perceive that any increase of the profits of land is met by the tenant with an increase of rent, and all those natural causes which advance the value of landed property add to the government income, and in that way are shared by all. Our government derives its sole support from rent, and no other tax or exaction is known. With a percentage of the profits from the use of the land, which is never burdensome to the tenant, it has been enabled, and has found it to its interest, to carry out agricultural and municipal improvements and enterprises which individual ownership would never undertake. It has drained our marshes, and reclaimed our desert lands in the most efficient manner, without the necessity of creating, as with you, an exacting monopoly, which would claim of industry its lion's share of profits from the work.
The government interest
Download


Copyright Disclaimer:
This site does not store any files on its server. We only index and link to content provided by other sites. Please contact the content providers to delete copyright contents if any and email us, we'll remove relevant links or contents immediately.