The Looking Glass by Michele Roberts
Author:Michele Roberts [Roberts, Michèle] , Date: September 16, 2020 ,Views: 14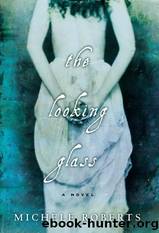 Author:Michele Roberts [Roberts, Michèle]
Language: eng
Format: epub
Publisher: Henry Holt and Co.
Published: 0101-01-01T00:00:00+00:00



LATER
It turned out that Geneviève had got up early and gone out, forbidding Marie-Louise to accompany her, bidding her wait for me. She said to Marie-Louise that she couldn't help it, she just had to go outside and look at the sea. I can understand that. I fell asleep last night to the repeated soft crash of water onto the beach, and I believe I heard it all night long, waking up into it, as though the waves were surging into my room and wanted to take me away with them. Geneviève came back just in time to help Madame Colbert do her hair. We breakfasted hastily then went out to make a cursory exploration of the little town.
The valley opens out like a mouth, for the sea to rush into, and Etretat sits in it, wedged between the steep chalk cliffs rising on either side. It's a small town, triangular shaped, a maze of narrow streets tight with old houses and cottages, some half-timbered and some built of flint, with back alleys leading to tiny gardens tucked in between. Wherever you go you hear the gulls crying overhead and you smell the sea. We saw the sights which tourists are obliged to visit: the Romanesque church, the old marketplace, several ancient and picturesque café-restaurants. Gérard turns out to know the town well and squired us about. Geneviève stayed behind in the hotel to organise finding a washerwoman and getting our laundry done.
Déjeuner was a big bowl of moules à la marinière followed by grilled mackerel with sorrel and butter sauce. The fish is caught in the morning, sold on the stalls at the top of the beach, cooked a moment later then whisked onto our plates, as fresh as can be. After déjeuner, Gérard vanished outside to smoke a cigar and to talk to a couple of old acquaintances he had met who were also staying at the hotel; painters, he said, who come here every year to paint the changing light. Marie-Louise pleaded to be allowed to forgo her nap, to go out again immediately and walk beside the sea. Madame Colbert did not argue. She was drowsy with food and wanted her own doze. She settled herself in a wicker chair behind the glass wall of the hotel sun-porch, which gives onto the broad esplanade running between the two sheltering wings of the cliffs. We left Geneviève on duty beside Madame Colbert, ready to chat to her when she woke up, and we ran off like children given a day out of school, down the broad flight of steps onto the beach.
Once there, you're in a new element. You jump down onto the damp stones; you smell fish and the sharp salt breeze; you become transformed; another creature. Freer. More daring. Not caring about how you look or what other people think. Marie-Louise felt it too. She grabbed my hand and shouted aloud with pleasure.
We slipped and slithered down the steep shelf of pebbles, digging our heels in, leaning backwards.
Download


Copyright Disclaimer:
This site does not store any files on its server. We only index and link to content provided by other sites. Please contact the content providers to delete copyright contents if any and email us, we'll remove relevant links or contents immediately.