The Lighthouse Witches by C.J. Cooke
Author:C.J. Cooke [Cooke, C.J.] , Date: October 14, 2021 ,Views: 82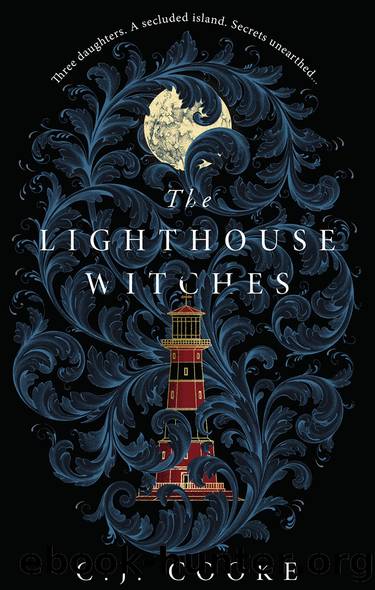 Author:C.J. Cooke [Cooke, C.J.]
Language: eng
Format: epub
Publisher: HarperCollins Publishers
Published: 2021-07-26T12:00:00+00:00



II
I spent the rest of the day in a daze, completely confused. And furious.
At the Longing, Finn hadn't turned up to sort out the bats, and I couldn't paint the upper levels until he'd moved them. Right as I was thinking of finishing for the day, I heard a car pull up outside.
Isla came running across the rocks towards me, her face drawn.
'The child you saw,' she said when she caught her breath. 'Did he have a mark on him? A set of numbers on his skin?'
'Numbers?' I said, astonished by her appearance. She was electrified by fear, her eyes wide and her voice loud.
'Did he hurt you?' she said. 'Did he threaten you with anything?'
I reeled. 'Hurt me?'
She drew a hand to her mouth, and I saw she was becoming upset.
'Isla, what's going on?'
'I was just so worried,' she said, gripping my arm. 'When Bram told me what had happened I had to come straight to see you.'
'Has the boy been found?' I asked. 'Did the police find his parents?'
She shook her head. 'Come over to the café tonight at seven,' she said. 'There'll be a group of us. We need to make sure this is dealt with, and fast.'
'Make sure what is dealt with?'
'Trust me.'
She gave me a long look before turning to run back towards her car.
I went to Isla's café at seven, still baffled but determined to find out what was going on. Of all people, Isla would know who the boy was, and why he was roaming the bay on his own. She would know if he was safe.
The café windows were dark, the blinds down. I opened the door and called 'Hello?' before spotting a dozen candles flickering in the center of a circle of women, all sat cross-legged on cushions. It looked somewhere between a yoga class and a séance.
Isla appeared in front of me. She'd put on make-up and pinned up her hair, and I saw she was wearing a long black dress.
'Come in,' she said, a pleased glint in her eye. 'Lock the door behind you.'
I saw that the women in the circle were all the women I'd swam in the mareel with – Ailsa, Ruqayya, Louisa, Greer, Mirrin and Ling. Niamh was there as well, a great-grandmother who I'd often spotted walking her sheepdog, Ginger, along the bay. She ran a croft just outside the village and was related to Isla. The room was charged with anticipation, as though we were celebrating something. The child, I thought – maybe the boy had been found.
'Have a seat,' Isla told me. There was an empty seat cushion on the floor between Louisa and Ling. I sat down, and Ling reached out and gently took my hand.
'I can imagine this all looks very strange,' Isla said. 'Perhaps this will help us all feel a little more … at ease.' She picked up a tray from a nearby table. Balanced on it were three bottles of wine, and nine glasses.
Isla poured each of us a glass and held it up in a toast.
Download


Copyright Disclaimer:
This site does not store any files on its server. We only index and link to content provided by other sites. Please contact the content providers to delete copyright contents if any and email us, we'll remove relevant links or contents immediately.