The Leader in You: Discovering Your Unexpected Path to Influence by Ebony S. Small
Author:Ebony S. Small [Small, Ebony S.] , Date: July 28, 2020 ,Views: 222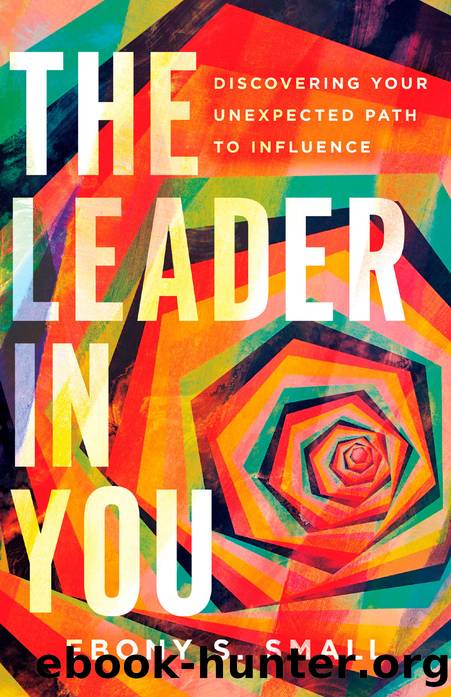 Author:Ebony S. Small [Small, Ebony S.]
Language: eng
Format: epub
Tags: Religion, Leadership, Christian Church, Self-Help, Personal Growth, Success, Business & Economics
ISBN: 9780830831838
Google: WCnNDwAAQBAJ
Amazon: 0830831835
Publisher: IVP
Published: 2020-07-13T23:00:00+00:00



BIRTHING YOUR PLATFORM
In April 2017, I received an email forwarded by my then boss Mac Pier. The email had been sent to him by Cindy Bunch, the associate publisher of InterVarsity Press, who asked if I had any interest in writing a book. She wanted to meet me during the Q Conference, where I was scheduled to be a guest speaker.
I distinctly remember the night before I was to fly to Nashville, where Q was being hosted. I was heartbroken from a recent broken relationship and could not even muster the strength to pack. I called my mentor, Helen West. When she answered the phone, I sobbed and asked her to pray. I needed God to deliver me from the enemy who wanted to hinder God's will from being accomplished. She prayed, and as a result God flooded my heart with peace, enabling me to pack and go to Nashville. There, I met with Cindy and went on to speak before hundreds of leaders at Q. This book, which I began writing in 2018, is a product of that meeting. Sometimes a platform is birthed in a time of darkness. In those moments we may be humbled in a way that allows us to listen especially well to the whispers of the Spirit.
Within the course of one year, God had crystallized my understanding of the platform he was cultivating through me: to preach his Word, to teach and shepherd his flock, to write and share my voice with the world, to travel globally as an ambassador for God, connecting his people and mentoring the next generation of young leaders. These revelations had taken many years to manifest. It was as if the pieces of a puzzle were coming together, and the puzzle was God's original plan for my life. Yet I can't help but feel that more is waiting to be revealed.
Jada Pinkett Smith is an American actress, comedian, singer-songwriter, and businesswoman with a platform that's different from my own. In May of 2018, Jada, her mother, and her daughter started a web-based television show called Red Table Talk, which is broadcast on Facebook Watch. In each episode the trio, along with an invited guest, discuss various topics: loss, marriage, anxiety and depression, drug addiction, and so forth. The show became an overnight success, and as of August 2019 it boasted over 6.4 million Facebook followers.
Prior to launching Red Table Talk, Jada didn't have an Instagram account. However, she needed to market her personal brand, so in 2018 she created an Instagram account. In one year she had over two million followers. Jada has become known for possessing wisdom, great insight, and a voice of authenticity for her audience. Her personal brand has been accelerated because of her platform. Jada's example reveals that knowing our niche and the specific areas where we produce significant results can allow us to be purposeful in how our distinct passions are leveraged for maximum impact.
Download


Copyright Disclaimer:
This site does not store any files on its server. We only index and link to content provided by other sites. Please contact the content providers to delete copyright contents if any and email us, we'll remove relevant links or contents immediately.