The Killing Kind by Jane Casey
Author:Jane Casey [Casey, Jane] , Date: June 11, 2021 ,Views: 62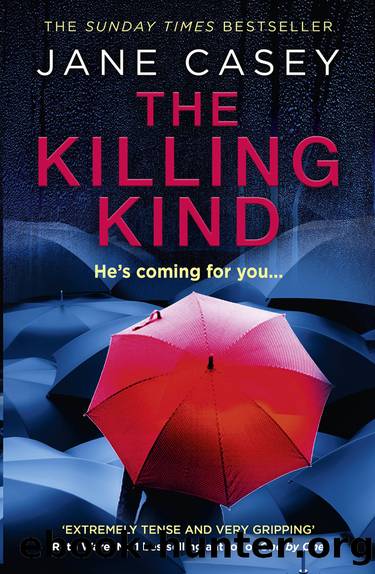 Author:Jane Casey [Casey, Jane]
Language: eng
Format: epub
Publisher: HarperCollins Publishers
Published: 2021-05-04T17:00:00+00:00



27
IN THE CROWN COURT
AT ISLEWORTH
No. T20165344/T20164512
36 Ridgeway Road
Isleworth
London
6 APRIL 2015
Before: THE HONOURABLE MR JUSTICE CANTERVILLE
REGINA
-V-
GUY LANESBURY
MISS S ALLEN appeared on behalf of the prosecution
MISS B GREY QC leading MISS I LEWIS appeared on behalf of the defendant, GUY LANESBURY
THE EVIDENCE OF LISA MULLER
LISA MULLER, SWORN
Examined in chief by MISS ALLEN by video link
Q. Please tell the court your full name.
A. Lisa Vivian Muller.
Q. Thank you very much. Now, I want to ask you about last year, and the events of the night of 17 October. What did you do that night?
A. I went out with a group of friends.
Q. And why did you go out?
A. To celebrate my nineteenth birthday.
Q. I see. And how many were in this group?
A. There were eight of us. The booking in the restaurant was for eight.
Q. And what restaurant was that?
A. A little Cambodian place near the British Museum. I don't remember the name. It was tiny.
Q. And who was there? Friends of yours?
A. Yes. Other students. There were four other girls and three guys.
Q. And you knew them all well?
A. Pretty well. One of the guys was someone's boyfriend from home and I didn't know him.
Q. What did you do after dinner?
A. We went to a couple of pubs. Three, I think.
Q. Were you drinking alcohol?
MR JUSTICE CANTERVILLE: You need to say yes or no, Miss Muller, rather than nodding or shaking your head.
A. Yes, then.
MISS ALLEN: Did you have a lot to drink?
A. I think so. I don't know how much. People were buying drinks for me. Lining them up. I don't drink that much usually. I got sick in the third pub. We had to leave.
Q. Where did you go then?
A. Someone got us into one of the UCL student bars. We stayed there for a bit, until it closed. Then we went and had some more food. Kebabs.
Q. Did you eat anything?
A. I had a Diet Coke.
Q. Did you buy it yourself?
A. No. He bought it for me.
Q. Who is 'he'?
A. Guy.
Q. The defendant, Guy Lanesbury.
A. Yes.
Q. And what happened then?
A. We went back to Guy's flat.
Q. Mr Lanesbury.
A. Yes.
Q. Who went to Mr Lanesbury's flat? All of you who had gone to dinner?
A. No. There were five of us. Me and Guy, and my best friends Umi and Tess, and someone called Robert who I didn't know that well. I think he was a friend of Guy's.
Q. What happened at the flat?
A. We had a couple of drinks. Robert wanted to skin up and Guy wouldn't let him. He ended up throwing him out.
Q. Mr Lanesbury, the defendant, threw Robert out.
A. Yes. And then Umi was falling asleep so Tess took her home.
Q. And you stayed.
A. I wasn't in a fit state to go anywhere. I was pretty out of it.
Q. Why was that?
A. I had had too much to drink.
Q. Had you taken anything else that might have intoxicated you?
A. Not to my knowledge at the time but afterwards I wondered if someone had spiked my drink. I
Download


Copyright Disclaimer:
This site does not store any files on its server. We only index and link to content provided by other sites. Please contact the content providers to delete copyright contents if any and email us, we'll remove relevant links or contents immediately.