The Girl in the Spider's Web: A Lisbeth Salander novel, continuing Stieg Larsson's Millennium Series by Lagercrantz David
Author:Lagercrantz, David [Lagercrantz, David] , Date: January 26, 2018 ,Views: 1867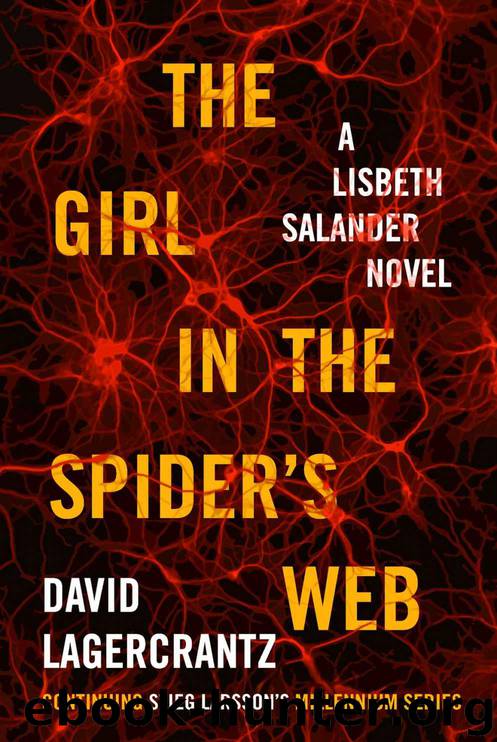 Author:Lagercrantz, David [Lagercrantz, David]
Language: eng
Format: epub
Publisher: Knopf Doubleday Publishing Group
Published: 2015-09-01T04:00:00+00:00



CHAPTER 16
NOVEMBER 21–22
Gabriella Grane buried her face in her hands. She had not been to bed for forty hours and she was racked by a deep sense of guilt, only made worse by the lack of sleep. Yet she had been working hard all day long. Since this morning she had been part of a team at Säpo—a sort of shadow unit—which was investigating in secret every detail of the Frans Balder murder under cover of looking into broader domestic policy implications.
Superintendent Mårten Nielsen was formally leading the team and had recently returned from a year of study at the University of Maryland in the United States. He was undoubtedly intelligent and well informed, but too right-wing for Grane's tastes. It was rare to find a well-educated Swede who was also a wholehearted supporter of the American Republican Party—he even expressed some sympathy for the Tea Party movement. He was passionate about military history and lectured at the Military Academy Karlberg. Although still young—thirty-nine—he was believed to have extensive international contacts.
He often had trouble, however, asserting himself in the group and in practice the real leader was Ragnar Olofsson, who was older and cockier and could silence Nielsen with one peevish little sigh or a displeased wrinkle above his bushy eyebrows. Nor was Nielsen's life made any easier by the fact that Detective Inspector Lars Åke Grankvist was also on the team.
Before joining the Security Police, Grankvist had been a semi-legendary investigator in the Swedish police's National Murder Squad, at least in the sense that he was said to be able to drink anybody else under the table and to manage, with a sort of boisterous charm, to keep a lover in every town. It was not an easy group in which to hold one's own, and Grane kept an ever lower profile as the afternoon wore on. But this was due less to the men and their macho rivalry than to a growing sense of uncertainty.
Sometimes she wondered if she knew even less now than before. She realized, for example, that there was little or no proof to support the theory of the suspected data breach. All they had was a statement from Stefan Molde at the NDRE, and not even he had been sure of what he was saying. In her view his analysis was more or less rubbish. Balder seems to have relied primarily on the female hacker he had turned to for help, the woman not even named in the investigation, but whom his assistant, Linus Brandell, had described in such vivid terms. It was likely that Balder had been withholding a lot from Grane before he left for America.
For example, was it a coincidence that he had found a job at Solifon?
The uncertainty gnawed at her and she was indignant that no help was coming from Fort Meade. She could not get hold of Alona Casales, and the NSA was once again a closed door, so she in turn no longer passed on any news. Just like Nielsen and Grankvist, she found herself overshadowed by Olofsson.
Download


Copyright Disclaimer:
This site does not store any files on its server. We only index and link to content provided by other sites. Please contact the content providers to delete copyright contents if any and email us, we'll remove relevant links or contents immediately.