The Freedom of Birds by Stephanie Parkyn
Author:Stephanie Parkyn [Parkyn, Stephanie] , Date: August 6, 2022 ,Views: 11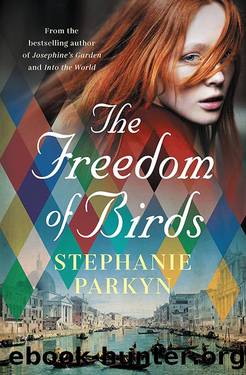 Author:Stephanie Parkyn [Parkyn, Stephanie]
Language: eng
Format: epub
Publisher: Allen & Unwin
Published: 2021-10-08T00:00:00+00:00



'What is this place?' I asked her as we climbed through the rusted iron railings of a spear-tipped gate.
'San Zaccaria,' she said. 'A convent.'
We stood in an open plaza overgrown with weeds, the tiles pushed up by sprouting shrubs. The place was deserted. Across the campo, the flat white face of the San Zaccaria church rose several storeys high alongside a sprawling complex of red-brick buildings with a campanile of silent bells. I guessed this to be the remains of a Benedictine convent, where the nuns were once cloistered behind the high wall.
'What is this?' I asked, moving the rusted mechanism of a turnstile in the wall with a reluctant squeal. A portal opened to the outside world.
'A ruota, a wheel for the abandoned babies that were left to the Church to care for. A mother can leave her child and spin the wheel. No one need see her face.'
I blanched. It was a squalid place to leave a child. What sort of woman would discard their child like this? I was thankful for Gianni and his theatre, for his promise to keep us orphans safe.
'But there is no one left here to take them,' Colombina said.
What happened to all the unwanted babies now that the convents had been emptied? I wondered. Did they simply slip from their mother's arms into the canal?
Colombina led me into the church. 'I wanted to show you this.'
Inside it was cold and our footsteps rang on the flagstones. She gestured to the altar and the bare marks on the wall behind it. 'San Zaccaria once had the finest Bellini painting in all of Venice, an altar painting of the Madonna and four saints. Your Emperor took it. Looted the art and priceless relics from the Church treasuries.' Her voice was bitter.
'Our art is our soul,' she said coming towards me, pressing her finger above my heart so hard that I felt it bruise. 'We won't let him do this anymore. We must fight back. Do you understand?' She was trying to tell me something with the intensity of her gaze. 'We stood by, helpless, while Napoleon took our painters' art from our walls—Correggio, Bellini, Veronese and Michelangelo. He took our scholars' work from their universities, the words of Leonardo da Vinci. Do you know what it feels like to be helpless, able to do nothing but watch and let it happen? It changes you, Rémi! It is rape. He takes and he takes until you understand that you mean nothing. You are nothing. You are worthless.' Tears were coursing down her cheeks. 'Never again will I lie helpless while a man invades my body at his will.'
I was stunned by her words, by their ferocity, by the truths she had revealed of herself. I reached for her and felt her shudder in my arms.
'This place, this place … It is full of memories,' she murmured.
I guessed at what had happened to her here, and it sickened me.
She grasped my hand, pulled me from the church and led me through a wooden gate that had been hewn from its bolts.
Download


Copyright Disclaimer:
This site does not store any files on its server. We only index and link to content provided by other sites. Please contact the content providers to delete copyright contents if any and email us, we'll remove relevant links or contents immediately.