The Disney Revolt by Jake S. Friedman
Author:Jake S. Friedman , Date: July 17, 2022 ,Views: 42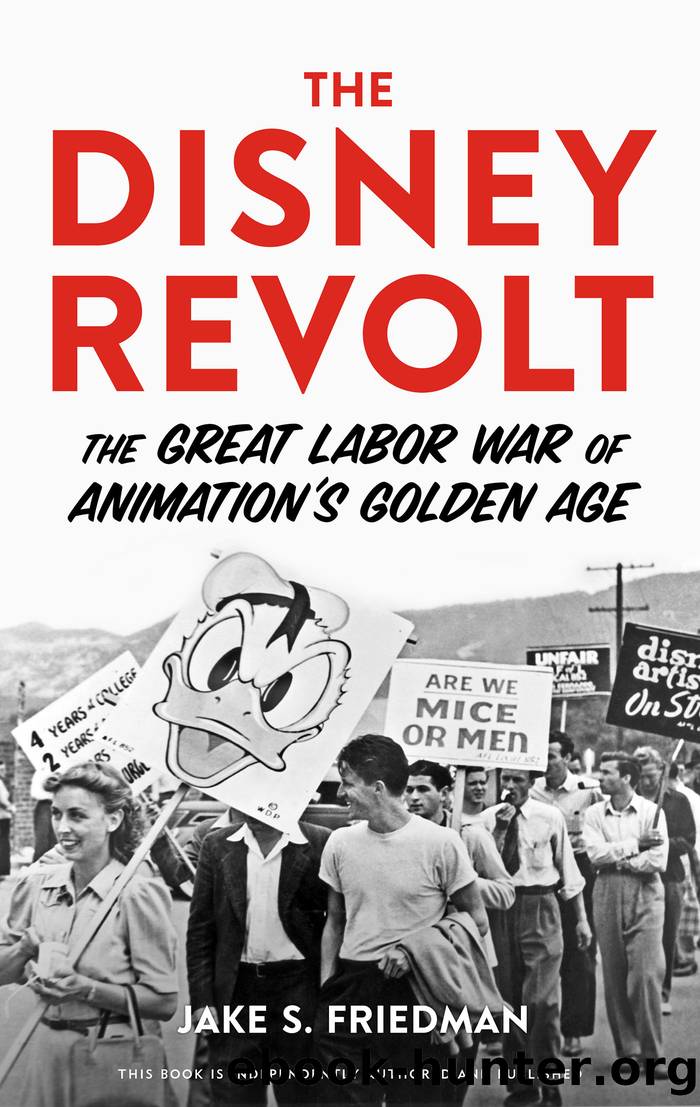 Author:Jake S. Friedman
Language: eng
Format: epub
Publisher: Chicago Review Press
Published: 2022-03-30T14:16:40+00:00



* * *
On Tuesday, February 18, at the big Guild meeting, Babbitt was elected chairman of the Disney unit. Hilberman was elected secretary. (In addition, the vice chairman was airbrush artist Phyllis Lambertson, and treasurer was animator Tom Armstrong.) A tentative union contract was discussed and submitted to the committee.32
Another issue was also discussed, settled, and put into action—and it would not bode well for Lessing and Babbitt's friendship.
* * *
Gunther Lessing must have thought he was doing great as a labor specialist. Starting Monday, February 24, he put forth a new pay scale for the Ink & Paint Department. (The wages still started at $16 but could grow by $2 or $2.50 every three months to $37.50—barring termination.)33
Then on Wednesday, February 26, Lessing found a shocking carbon-copied letter on his desk. It was from Guild president Bill Littlejohn and addressed to the head of the Painters District Council, requesting severe action against the Disney company. Littlejohn charged Disney with refusing to negotiate with the Guild, deliberately scheduling work meetings in conflict with Guild meetings, and attempting to revive a defunct company union. Therefore, the Guild asked the council to adopt the resolution to put the Disney company on the official Unfair/Do Not Patronize list of all AFL affiliates throughout the country. It was another boycott threat.
Lessing immediately called Howard Painter, the Federation's new lawyer, and asked if the Guild's Disney unit had authorized this. Painter didn't know, so Lessing summoned Babbitt into his office and asked him directly. Babbitt replied that he knew nothing about it. Lessing asked him if a boycott was a fair tactic, and Babbitt played dumb. Later that day, management officials called Babbitt into a conference, and Babbitt repeated his response.
The next day at the studio, Babbitt had a different story. He told a Federation chairman (possibly Bill Roberts) that twenty-five members of the Guild's Disney unit, including himself, had approved the resolution.
This infuriated the Federation supporters, and bulletins from both the Federation and the Guild bombarded the bulletin boards. The Disney company posted a bulletin headlined, IS DISNEY BOYCOTT IN HANDS OF MGM GUILD?34 Another read, ARE THESE 25 TO JEOPARDIZE YOUR FUTURE AND THAT OF YOUR 1100 FELLOW EMPLOYEES?35
Lessing's handbills may have been meant to sow doubt in the Guild's leaders, so Babbitt posted a bulletin of his own: "CALM DOWN BOYS!! Mr. Lessing is a nice guy and a very smart attorney. He should be able to recognize his own tactics." As opposed to all of his previous posts, this one was boldly signed ART BABBITT, adding a derisive "P.S. May I compliment the Federation on its very close cooperation with the studio attorneys."36
Now when Walt saw Babbitt pass by, his eyes followed Babbitt. Walt whispered to his staff that this top animator had become a "Benedict Arnold."37
Download


Copyright Disclaimer:
This site does not store any files on its server. We only index and link to content provided by other sites. Please contact the content providers to delete copyright contents if any and email us, we'll remove relevant links or contents immediately.