The Disaster Tourist by Yun Ko-Eun
Author:Yun Ko-Eun [Ko-Eun, Yun] , Date: August 13, 2020 ,Views: 754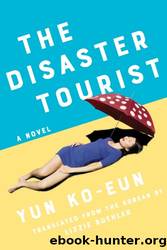 Author:Yun Ko-Eun [Ko-Eun, Yun]
Language: eng
Format: epub
ISBN: 9781640094161
Publisher: Counterpoint
Published: 2020-05-27T00:00:00+00:00



5
THE MANNEQUIN ISLAND
IT WAS EARLY IN THE OFF-SEASON, and there were no guests at the resort. Weather wasn't good between July and November, so tourists' footsteps disappeared from Mui during those months. Disasters didn't distinguish between the dry season and the wet season, but things like precipitation, temperature and humidity mattered to the disaster tourist. The off-season had started just as Yona's Jungle group arrived in Mui.
Each morning began with a clear sky. As the day deepened into afternoon, heavy rain would fall, but at night, humidity and noise on the island vanished. Yona stood on her balcony, staring down at the sea and up at the sky. It looked like you could scratch at it with your fingernails, and if you did a layer would peel off, and then another identical layer would appear underneath. Wasn't there a saying that only thirsty people dig wells? Mui was a thirsty island planning a huge scam to survive, creating holes out of nothing. The island's situation resembled Yona's, although it was significantly more dire.
Things had changed in the few days since Yona had agreed to take on a role here. Her previously unresolved problems were now dealt with quickly. The first evidence of this came the next day, when a resort employee went to Ho Chi Minh City airport and brought back Yona's suitcase. Of course, Yona still didn't have her passport or wallet, but when she was reunited with her belongings, she began to relax.
Yona wrote a contract to formalise the situation. By July, she would deliver the complete programme itinerary to the manager, and beginning in August, all business between Mui and Jungle would operate through Yona Ko. That was the gist of the contract. Yona decided she would remain in Mui until the first Sunday of August, but to stay here for more than a week, she needed authorisation. Yona had to secure written permission for a longer stay. Paul, it seemed, would grant her that permission.
'It's because Paul pays taxes to Mui,' the manager said. As Paul had invested in Mui, it had gained an enormous amount of authority. The manager told Yona that he'd already applied for her residence permit, and it should arrive within a week. Yona's first assignment was to explore the entirety of Mui, for research. The manager assigned an employee to help her with the task. It was the man Yona had given two dollars to: Luck.
The manager offered them a car, but Yona forcefully declined. It seemed less stressful to ride Luck's old motorcycle. Yona had forgotten until just now, but Luck had transported her back to the resort on this vehicle, after she'd witnessed the truck accident and right before she fainted. The motorcycle's paint was peeling off in fish-like scales.
'I couldn't properly say hello the other day,' Yona said bashfully. 'Your name is Luck, right?'
'Yes—you remember me.'
'Do you know my name?'
Luck shook his head.
'It's Yona Ko. I remember seeing this, too—the spelling here is wrong.'
Luck's face seemed to redden slightly.
Download


Copyright Disclaimer:
This site does not store any files on its server. We only index and link to content provided by other sites. Please contact the content providers to delete copyright contents if any and email us, we'll remove relevant links or contents immediately.