The Comics of Chris Ware by
Author: , Date: November 17, 2020 ,Views: 24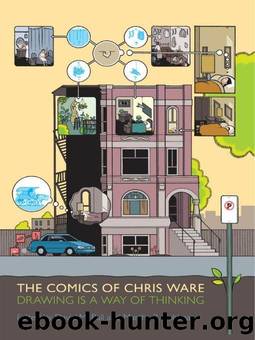 Language: eng
Format: mobi
Publisher: University Press of Mississippi
Published: 2010-03-25T16:00:00+00:00



Fig. 8.1. A crane lowers a cast-iron panel from the ruins of Louis Sullivan's Rothschild Building in Lost Buildings. Lost Buildings, produced and performed by Ira Glass, Tim Samuelson, and Chris Ware, DVD, This American Life, WBEZ Chicago, 2004.
Lost Buildings builds an even more subtle association between architecture and comics in its use of insets. In one slide, after Samuelson discusses Nickel's death, we see a large drawing of the Federal Building that replaced Sullivan's Chicago Stock Exchange Building. Ware illustrates the building, like many of the other large slides of architecture, head-on, exhibiting the homogenous panels of windows so emblematic of both the modern skyscraper and the conventional comics grid. These regimented panels, however, are broken up by an inset panel, a circle which at other moments in the slideshow is a wrecking ball and a kind of peephole into childhood. This circular inset features, first, rubble, then a piece of stair stringer, and, finally, a hardhat atop a table. These images are repeated from an earlier moment in the slideshow about Richard Nickel's death. The inset circle, then, interrupts the modern building's homogenous structure and serves as a space for memory and remembrance, while also playing with the conventional comics grid. Haunted by the new building, Samuelson looks forward to the day when it too will be demolished to make way for something different.
If Mies van der Rohe's architecture is impersonal, then Sullivan's buildings are remarkable because of their ability to produce feelings of warmth and intimacy. The ornamentation of Sullivan's buildings is central to Samuelson's feelings about them. Architectural critic Mark Wigley argues that Sullivan's notion of organic form relies on the intertwining of ornament and structure: "Sullivan's call for a removal of ornament is not a call for the eradication of ornament. On the contrary, it is an attempt to rationalize the building precisely to better clothe it with ornamentation that is more appropriate and more carefully produced [. . .] despite the 'fashion' to consider ornament as something that can be either added or removed from a building, ornament can never be simply separated from the structure it clothes."36 Ornament, then, is not an additive to Sullivan's buildings but an integral part of the architecture. Lost Buildings mourns the loss of these total structures, despite the fact that there are a number of Sullivan buildings that have been preserved in Chicago. The ruination of Sullivan's buildings, though, provides an occasion for a more intense appreciation of ornament not in and of itself but as a synecdoche for these larger yet lost structures. Nickel's photographs and Ware's drawings document the erosion of the connection between ornament and structure, and they demand that the viewer imagine the whole from the fragment. One of Ware's large building images depicts the demolition of Sullivan's Rothschild Building (see fig. 8.1). In that image, we see a crane lowering a cast-iron panel. Decorative fragments such as this are pictured throughout the slideshow; they are key to Sullivan's aesthetic and are often the only surviving artifacts of Sullivan's buildings.
Download


Copyright Disclaimer:
This site does not store any files on its server. We only index and link to content provided by other sites. Please contact the content providers to delete copyright contents if any and email us, we'll remove relevant links or contents immediately.